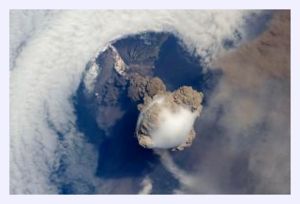 Moscow -- Two of the active volcanoes on Russia's Kamchatka Peninsula have been sending plumes of ash as much as 5 miles into the air, scientists said Saturday.
No warnings had yet been issued about air traffic in the area, RIA Novosti reported. Volcanic ash can damage aircraft engines, and an eruption in Iceland earlier this year caused chaos for air traffic in Europe and on trans-Atlantic routes.
Kamchatka, part of the Pacific Ring of Fire, has 29 active volcanoes.
Karymsky, the most active volcano in the eastern zone of the peninsula, has been spurting ash up to 3.7 miles into the atmosphere. The 4,875-foot volcano showed a new burst of activity in 1996, with periodic eruptions ever since.
Shiveluch, 10,771 feet high, has been sending ash up to 5 miles high and has also showed signs of lava flows, scientists said. The volcano became much more active in May 2009.
Seismographs have recorded numerous small earthquakes around both volcanoes, with 180 recorded at Karymsky in 24 hours.
.