Observers in Europe are reporting brightening displays of noctilucent clouds (NLCs). "We had a lovely show on June 15th," says Peter McCabe of Dundalk, Co.Louth, Ireland. "The electric-blue colors were striking." He took this picture using a Canon 450D: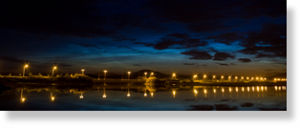 "They were not the most intense NLCs I've seen, says McCabe, "but they bode well for the weeks ahead." Indeed, as northern summer unfolds, NLCs should become even more intense. The seasonal peak is not fully understood but it rarely fails to produce vivid displays in June and July.
Another factor boosting these strange clouds near the edge of space is the solar cycle. There is a well-known correlation between noctilucent clouds and sunspots. NLC activity tends to peak during (and just after) years of solar minimum, possibly because low solar activity allows the upper atmosphere to cool, promoting the growth of ice crystals that make up the clouds. With the sun slowly emerging from a
century-class minimum
, the stage is set for a good season of NLC watching.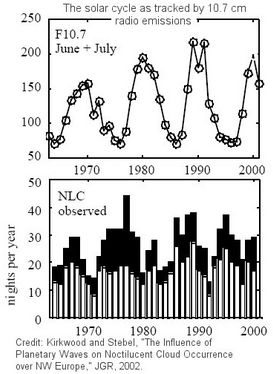 More images:
from Conor McDonald
of Maghera, Ireland;
from Martin McKenna
of Maghera, Co. Derry, N. Ireland;
from Pete Glastonbury
of Avebury, Wiltshire, UK;
from Stuart Atkinson
of Kendal, Cumbria, UK;
from George
of Moscow, Russian Federation;
Observing tips:
Look west 30 to 60 minutes after sunset when the Sun has dipped 6
o
to 16
o
below the horizon. If you see luminous blue-white tendrils spreading across the sky, you may have spotted a noctilucent cloud. High-northern latitudes are favored.