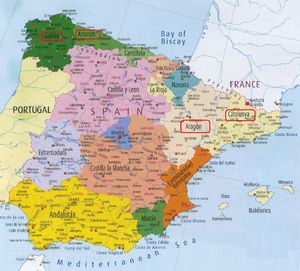 Roads have been closed and homes flooded in some areas of Spain today, Thursday, as a new front brings a return to wet conditions for much of the country. Worst affected regions are Galicia, Asturias, Aragón and Cataluña where many rivers have burst their banks. Several people have had to be rescued, a camping site in Vall de Boí had to be evacuated, and some schools have been closed. The coast of Lugo has been particularly affected and reservoirs in the region have been forced to open their sluice gates.
Update
(10.06.2010 at 14:22 GMT+2)
The heavy rain that has fallen over the past few hours has caused extensive flooding, with roads closed and some towns in Lugo (pictured) and Asturias rendered inaccessible.
Reservoirs in the Pyrenees in Lleida and Aragón have also had to be emptied. Along the Lugo coastline, roads have been closed, schools shut and people evacuated from buildings where the ground floors have been flooded since yesterday, when the downpours began.
The mayor of Burela described the town's situation as "terrible", saying that the deluge of water has been on "such magnitude" that "there's no telling what could happen if it doesn't stop raining soon".
The intense rainfall has led to some controlled emptying of the Oliana, Rialb and Camarasa reservoirs in the Pyrenees. For the moment, the water authorities are not expecting the rivers to burst their banks, although substantial rises in water levels are expected tomorrow when the surplus reservoir water reaches the lower river courses.
Fire fighters had to evacuate a campsite in Vall de Boí this morning because the nearby Cavallers reservoir had started to overflow. Yesterday, it was discharging some 15 cubic metres of water per second, but today that quantity had increased to 45 cubic metres per second.
Another of the worst affected areas is Asturias, where a number of floods have been recorded, especially in the coastal towns of Gijón, Gozón, Carreño and Avilés, where emergency flood plans had to be initiated this morning.