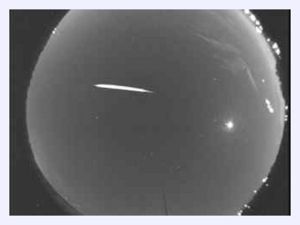 Scottsboro, Alabama - On May 18th, NASA cameras at the Marshall Space Flight Center and Walker County Science Center near Chickamauga, Georgia tracked the entry of a large meteor estimated to weigh some 60 pounds over northeastern Alabama.
This meteor was first picked up at an altitude of 47 miles over northwest Huntsville, moving at a speed of 8 miles per second towards the southeast. It was last visible northeast of Gurley at an altitude of 23 miles.
The meteor was quite bright, with an intensity rivaling that of the waxing crescent Moon (in astronomical terms, it was about visual magnitude -8.3). Calculations automatically performed by the tracking software indicates that this interloper was from the main asteroid belt, moving in an orbit which takes it more than three times Earth's distance from the Sun.
Expert opinion is that one or more pieces of this meteor survived to make it to the ground as meteorites, and calculations indicate that the area of the fall lies north of a line joining Woodville and Scottsboro.
Residents who saw the meteor on the night of the 18th, or those who have may noticed or picked up an unusual rock in the vicinity are requested to contact the NASA Meteoroid Environment Office at the Marshall Space Flight Center.
Eyewitnesses are asked to give a detailed description, including the time of the sighting, and those who suspect they have a meteorite are requested to give the location of the find and provide a digital photo of the object.
If you think you may have seen the meteor, call Dr. Bill Cooke at 256-544-9136 or email him at william.j.cooke@nasa.gov.
Watch Video