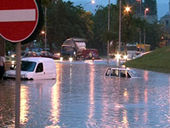 Overnight heavy rains and increased water level have caused Pcinja river to overflow flooding nearby villages. 4,000 hectares of arable land is inundated and smaller damages have been registered in the region of Kriva Palanka and Kratovo.
Minister of Defense Zoran Konjanovski visited these areas today. - This kind of storm hadn't hit the area in 30 years. The Government will assist the mayors to handle the situation. Local residents will not be left on their own. We'll make efforts to repair the damages caused by the natural disaster as soon as possible, said DM Konjanovski.
Early in the morning, the Protection and Rescue Directorate in cooperation with the Interior Ministry intervened in the region of Kumanovo where Pcinja river overflowed leaving eight people cut off.
- Directorate's rapid response units at first tried to rescue them with a boat, but were unable to come close enough due to fallen trees obstructing the road. As a result, a helicopter of the Interior Ministry was used to pull out three people, while five managed to rescue themselves, the Directorate said in a press release.
The rescued people were immediately transferred to the medical center in Kumanovo for treatment.