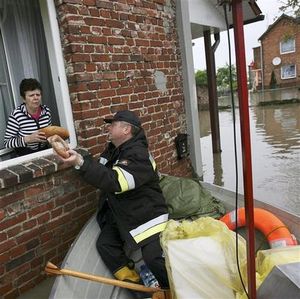 Authorities say flooding in Poland has killed nine people this week. Residents and officials in Warsaw are working to strengthen the capital's flood defenses.
National police spokesman Mariusz Sokolowski said Friday the victims drowned in flooding that submerged some farms and residential areas in southern Poland following heavy rains.
Prime Minister Donald Tusk said the high water levels were receding slowly. Further north, in Warsaw, water levels on the Vistula river were expected to peak Friday.
Residents of the capital were working with thousands of firefighters and police officers to strengthen dikes on the river with sandbags to protect areas that could be at risk - including the zoo.