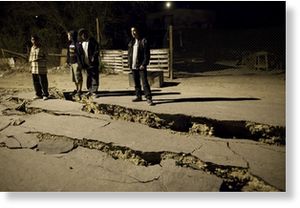 Aftershocks rattled the southwest Mexico-U.S. border on Monday morning in the aftermath of a major earthquake that killed two people, blacked out cities and forced the evacuation of hospitals and nursing homes.
Sunday's 7.2-magnitude quake, centered just south of the U.S. border near Mexicali, was one of the strongest earthquakes to hit region in decades, shaking at least 20 million people.
It had a shallow depth of 6 miles (10 kilometers). But the human toll was minimal in large part because the energy from the quake moved northwest of Mexicali toward a less populated area, said Jessica Sigala, a geophysicist from the U.S. Geological Survey.
"We were just kind of lucky that the energy went the other way," Sigala said. "With every earthquake, the earth starts moving a certain direction. It started south of Mexicali and the rupture moved northwest."
Building construction has also improved in northern Mexico, a region with a history of quakes, said Carlos Valdes, chief of the Mexican National Seismological Service.
"People see that it always shakes and have improved their construction capacity," Valdes said. "Then when the construction codes are implemented, there is stricter control, especially in larger structures."
Still, at least 45 and dozens of businesses homes were destroyed in Mexicali, a bustling commercial center along Mexico's border with California where the quake hit hardest, said Baja California state Gov. Jose Guadalupe Osuna.
Most of the destruction was in small farming communities on the outskirts of the city.
A 94-year-old man was killed when a wall collapsed in his home in the city, and homeless man died when the abandoned home he was living in collapsed in a farming community, Osuna said.
Civil protection authorities said Sunday that another man died when he ran into the street in panic and was struck by a car, but the government did not count him among the earthquake victims Monday.
Across the border in Calexico, police patrolled streets littered with shattered glass Monday and closed off several blocks of damaged historic buildings.
Scientists measured about 100 aftershocks early Monday morning, said seismologist Kate Hutton at the California Institute of Technology in Pasadena.
At least 233 people were injured in Mexicali, most of them struck by falling objects, Osuna said.
The governor added that power had been restored to 75 percent of the city by midday and water service was expected to be restored later Monday. He said it would take time to quantify the damages.
"It's major damage. What interests me more is reestablishing public services and safeguarding life," he said.
Large cracks opened in the streets of Mexicali. Power lines fell, lamp posts were bent, bricks fell from buildings and furniture and merchandise was strewn around in shops and banks. Wells crumbled and the waters of a canal spilled into some streets.
Mexicali General Hospital's was evacuated because of the structural damage to the building, which also was without electricity and water. Some patients were taken to private clinics but others were in tents. Civil Protection Inspector Alan Sandoval said the most critical patients would be transported to hospitals in Tijuana and the coastal town of Ensenada.
The parking garage still under construction at Mexicali's city hall collapsed, but no one was injured.
Sandoval said the Easter holiday delayed damage assessments for Mexicali, as did landslides that slowed traffic on the toll road into the city.
Scientists said the main earthquake probably occurred on a fault that has not produced a major temblor in over a century. Preliminary data suggest the quake occurred on the Laguna Salada fault, which last unleashed a similar-sized quake in 1892. Since then, it has sparked some magnitude-5 temblors.
In Calexico, California, a city of 27,000 right across the border from Mexicali, the city council declared a state of emergency.
Calexico police Lt. Gonzalo Gerardo said most of the damage occurred downtown, where buildings constructed in the 1930s and '40s were not retrofitted for an earthquake of this magnitude.
"You've got a lot of cracks. You've got a lot of broken glass," he said. "It's unsafe for people to go there."
Sal Farah, 62, spent the night in his 50-year-old Yturralde Furniture store, fearing it could be looted since the giant storefront windows were knocked out by the quake.
"I didn't get much sleep, especially in the morning when it shook hard again," Farah said, standing in the store littered by broken vases, lamps and shattered knickknacks.
They planned to board up the windows later Monday and hoped to be back in business within a day.
A home for seniors in Calexico built in the early 1900s was evacuated and its residents moved to a Red Cross shelter. The Fire Department also brought some sick and elderly people to hospitals because of power outages and gas problems.
Strong shaking was reported across much of Southern California. The earthquake rattled buildings on the west side of Los Angeles and in the San Fernando Valley, interrupting Easter dinners. In San Diego, there were reports of shattered windows, broken pipes and water main breaks in private buildings.
If the preliminary magnitude holds it would be the area's largest temblor since the 7.3-magnitude Landers quake hit in 1992, Jones said. There were at least two other 7.2-magnitude quakes in the last 20 years.