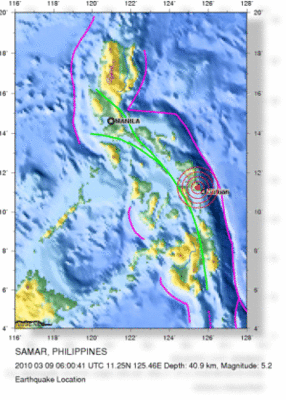 Vigan City - Two successive earthquakes hit the Batanes Group of Islands early morning Tuesday.
Julius Galdiano of the Philippine Institute of Volcanology and Seismology branch office in Sinait, Ilocos Sur said the first quake with 5.1 magnitude occurred at 1:22 a.m. Tuesday, with Intensity 5 felt at the center of the province while intensity 4 was felt in Batan Island.
The epicenter of the quake according to the United States Geological Survey was located 30 km south southeast of Basco, Batanes with a depth of 10 kilometers.
After 20 minutes or at 1:40 a.m, an aftershock was felt in the same place with a magnitude of 4.8 magnitude.
Galdiano also revealed that before the quakes, a weak temblor was also felt and was centered 80 kilometers northwest of Vigan City at about 10:28 p.m. last Monday.
According to Phivolcs, no damage had been reported from the quakes.
Meanwhile, the Philippine Atmospheric, Geophysical and Astronomical Services Administration cautioned the public to brace themselves for the possible occurrence of heat strokes because of the continuing rise in temperature.
According to Eduardo Quetivis of the PAGASA branch in Sinait, Ilocos Sur, temperature in Tuguegarao City in Cagayan had reached 37 degrees Celsius last Monday while it was 35.6 degrees in Metro Manila.
"The continuing increase in the temperature might cause heat stroke among old men and old women in the affected areas," Quetivis said.
Meanwhile, PAGASA spokesman Nathaniel Cruz said their office is closely monitoring the possible occurrence of a "heat wave" in the country.
"It doesn't necessarily need excessive heat to have a heat wave but this may happen if we feel two consecutive high degrees of ordinary temperatures," he said.
USGS data link can be found
here
.