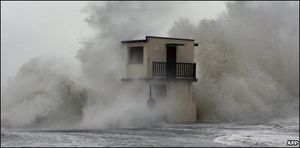 At least nine people have been killed in storms that have lashed parts of Spain, Portugal and France.
Winds of up to 140km/h (87mph) caused chaos as they moved from Portugal up through the Bay of Biscay.
Five people are reported to have been killed in France, three in Spain and a 10-year-old boy in Portugal.
The storm is expected to track north-eastwards during the course of Sunday, reaching Denmark by the evening, French meteorological authorities said.
Falling trees
The storm, which has been called Xynthia, has put five of the 95 French departments on red alert - only the second such warning since the new emergency system was introduced in 2001.
Hundreds of thousands of homes in west and south-west France have lost electricity while a number of French coastal villages were flooded.
Some people had taken to their roofs in the Vendee region, one policeman told the Agence France-Presse news agency by telephone.
Three people drowned in Vendee, while an 88-year-old woman also drowned in Charentes-Maritime, police said.
The fifth French fatality was caused by a falling tree in the Pyrenees region.
A tree also claimed the lives of two Spanish men when their vehicle was hit and a Spanish woman aged 82 was killed by a falling wall in Galicia.
The Portuguese boy was also killed by a tree.
Rail services were severely affected in northern Spain.
Paris has ordered all parks and cemeteries to be closed on Sunday amid fears of high winds.
Spain's Canary Islands, particularly La Palma, Gran Canaria and Tenerife, were hit by the storm, although there was no great damage.