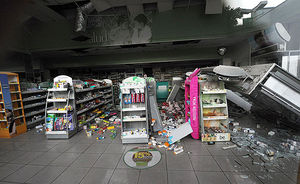 A massive earthquake has hit central Chile, killing at least 82 people, the interior minister says.
The 8.8 magnitude quake struck at 0634 GMT about 115km (70 miles) north-east of the city of Concepcion and 325km south-west of the capital, Santiago.
President Michelle Bachelet declared a "state of catastrophe" in affected areas and appealed for calm.
Tsunami warnings have been issued for Hawaii, Australia, New Zealand, Central America and Pacific island nations.
The earthquake is the biggest to hit Chile in 50 years.
Santiago was also among the areas that suffered extensive damage. At least 13 people were killed
A number of buildings collapsed in the capital. A two-level car park was flattened, smashing dozens of cars.
Officials said damage to Santiago international airport's terminal would keep it closed for at least 72 hours. Flights are being diverted to Mendoza in Argentina.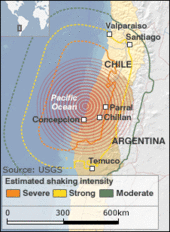 Interior Minister Edmundo Perez Yoma said 34 people had died in the region of Maule - although unconfirmed reports say the toll could be higher. Deaths were also in the O'Higgins region, in Biobio, in Araucania and in Valparaiso.
In Washington, White House Press Secretary Robert Gibbs said the US was monitoring the situation, adding: "We stand ready to help [Chile] in this hour of need."
Aftershocks
President Bachelet said: "People should remain calm. We're doing everything we can with all the forces we have."
She said a "wave of large proportion" had affected the Juan Fernandez island group, reaching halfway into one inhabited area. Three people there are missing, local media say. Two aid ships are reported to be on their way.
Ms Bachelet added that "high tidal waves" could also reach Easter Island soon.
"Because of that we are evacuating people living in low-lying areas," she said.
Ms Bachelet warned that if there were more aftershocks, people in coastal areas of Chile should go to higher ground.
She warned people not to travel on roads in affected areas as a number of bridges were down.
Chilean officials said the worst affected town appeared to be Parral, close to the epicentre.
Television pictures showed a major bridge at Concepcion had collapsed into the Biobio river.
Chilean television said there had been a fire involving chemicals in the town of Colina, 20km north of Santiago, but that it was now under control.
Several hospitals have had to be evacuated in a number of areas, including Santiago, because of structural damage.
One resident of Chillan, 100km from the epicentre, told Chilean television the shaking there lasted about two minutes.
Other residents of Chillan and Curico said communications were down but running water was still available.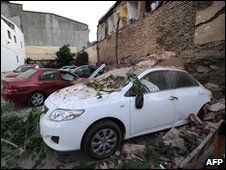 Many of Chile's news websites and radio stations are still not accessible.
The US Geological Survey (USGS) said the earthquake struck at a depth of about 35km.
It also recorded eight aftershocks, the largest of 6.9 magnitude at 0801 GMT.
The USGS said tsunami effects had been observed at Valparaiso, west of Santiago, with a wave height of 1.69m above normal sea level.
One journalist speaking to Chilean national television from the city of Temuco, 600km south of Santiago, said many people there had left their homes, determined to spend the rest of the night outside. Some people on the streets were in tears.
A university professor in Santiago, Cristian Bonacic, said that this was a massive quake but that the cities seemed to have resisted well. Internet communications were working but not mobile phones.
Chile is highly vulnerable to earthquakes as it is situated on the Pacific "Rim of Fire", on the edge of the Pacific and South American plates.
Chile suffered the biggest earthquake of the 20th century when a 9.5 magnitude quake struck the city of Valdivia in 1960, killing 1,655 people.