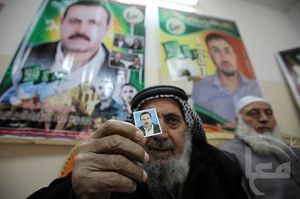 Bethlehem - A four-person squad of Israeli Shin Bet and Mossad operatives arrived in Dubai on European passports to assassinate Muhammad Al-Mabhouh, an alleged liaison between Iran and Hamas, Israeli media reported on Saturday.
According to the Israeli news-site
Inyan Merkazi
, the assassination squad interrogated Al-Mabhouh in his hotel room before killing him.
The squad returned with "precious information" attained following Al-Mabhouh's interrogation, which was focused on arms deals between Hamas and Iran, as well as how arms are smuggled into the West Bank, the news-site reported.
Various reports suggest that Al-Mabhouh, who was in Dubai under an alias, had assisted in weapons' smuggling into the Gaza Strip. He had been jailed several times by Israel, whose forces reportedly destroyed his Gaza home.
On Friday Hamas leader in exile Khaled Mash'al vowed to avenge the death Al-Mabhouh.
After the funeral in Al-Yarmuk Refugee Camp south of Damascus, Mash'al said "we will avenge this man. If you [Israel] were happy to assassinate a great man who bravely assassinated your soldiers, then this happiness is going to pass.
"Don't be so happy. We will avenge Al-Mabhouh. Do not think that we will abandon the choice of resistance. Not settlement, occupation, killing, nor the wall will weaken our resistance."
Mash'al added: "We do not know when, but we're going to win; we are confident we will defeat you."
Meanwhile, the information office of the government in the United Arab Emirates said that Dubai police were able to identify the suspects who killed the Hamas leader, saying they all hold European passports.
The police added that despite the fact that the apparent assassination was quick and skillful, the suspects left behind evidence that will lead to their eventual capture and arrest.
"We in Hamas hold the Zionist enemy responsible for the criminal assassination of our brother, and we pledge to God and to the blood of the martyrs and to our people to continue his path of jihad and martyrdom," read a statement on a Hamas' news site.