Lech Kaczynski, Poland's president, has signed the Lisbon treaty, leaving the Czech Republic the only country yet to ratify the controversial European Union reform plan.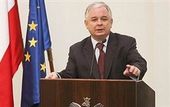 Flanked by José Manuel Barroso, the head of the European commission, and the Polish president of the European parliament, Jerzy Buzek, Mr Kaczynski put his signature to the treaty in Warsaw.
"The fact that the Irish people changed their minds meant the revival of the treaty, and there are no longer any obstacles to its ratification," said Mr Kaczynski in a short speech, adding that it was a "historic" day for both Poland and the European Union.
The ceremony leaves the Czech Republic as the last outpost of opposition to the treaty among the governments of the 27 member states, with Vaclav Klaus, the Czech president and an ardent opponent of further European integration
making an eleventh-hour bid
to gain opt-out clauses from the European Charter of Human Rights, which forms part of the Lisbon text.
Mr Kaczynski also poured praise on the former government, led by his twin brother Jaroslaw, which, he said, gained the necessary concessions that allowed him to ink the treaty.
The signing will come as a great relief to Poland's pro-Europe government, which had grown increasingly frustrated with the president's reluctance to sign.
A confirmed eurosceptic, Mr Kaczynski had resisted ratification, arguing that the treaty was dead in the water unless it received the blessing of the Irish.
But in the days that followed the second Irish referendum on October 3, Mr Kaczynski had remained silent on the subject of the treaty, fuelling speculation in Warsaw that he might further prevaricate in a possible effort to gain concessions from the government in a long-running dispute over the control of Polish foreign policy.
Attention now focuses on Prague, where the Czech constitutional court is deliberating whether the treaty is compatible with the country's constitution.
With the chances of it ruling against the treaty low, Mr Klaus will come under considerable domestic and international pressure to sign.