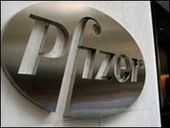 One of the whistleblowers in the Pfizer healthcare fraud scandal has said he felt he was "swimming upstream" when the firm was illegally promoting drugs.
"It's hard to do what's right when everyone else around you is following management sales directive," John Kopchinski told the BBC's World Today.
Mr Kopchinski was awarded $50m (£31m)for helping expose Pfizer's wrongdoing.
Pfizer is paying $2.3bn after promoting four drugs for conditions different to those for which they were approved.
Ray Kerins, a spokesman for Pfizer, said the company had a strong commitment to compliance transparency.
"We're looking towards the future and seeing what can we learn from this situation and ensure we have the best policies and practices in place," he said.
Increased dosages
Mr Kopchinski described how Pfizer's 3,000 sales representatives were told to promote Bextra in areas of medicine where the use of the drug had not been studied.
"They tried to have orthopaedics use Bextra pre-surgery and post-surgery. Bextra hadn't been studied in that area," he said.
"If I were going into surgery I wouldn't want to use a drug that had not been studied for that cause."
He also described how they were told to push the dosage up when promoting the drug to physicians, in some cases up to eight times the recommended dosage.
"At that particular dosage you're subjecting patients to a host of side effects and other areas that have not been studied scientifically, so literally you have no idea what's going to happen," he said.