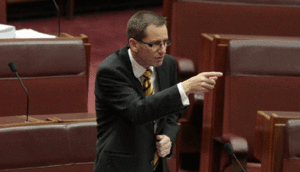 Climate change is real. Yes that's right, contrary to the misreporting in the media, I do believe in climate change.
That might come as a shock to some of those on the left side of politics, but it's the truth.
The question that concerns me, however, is what is driving it? Is it increasing levels of human made carbon dioxide emissions, variations in solar radiation or something else?
Around three months ago one of my advisors pulled me aside and asked me what I thought was driving climate change. I smiled and said automatically that it was obviously a result of increasing carbon dioxide emissions.
I had never really looked at the science and just assumed what was reported in the media to be true. Well wasn't I in for an enormous shock.
My advisor presented me with data and some comments from a number of scientists which suddenly had me asking many questions. This led me to do some further reading and I ultimately decided to head over to Washington on a self funded trip so I could find out more about the science behind climate change.
In the US I met with numerous scientists on both sides of the debate. Some media outlets would have you believe that I met only with climate skeptics who they accuse of being paid off by the fossil fuel industry. These claims are wholly inaccurate.
Moreover, I strongly believe in giving everyone a fair hearing even if it isn't the most popular view. I believe it's my role as a a politician, to wade through all of the spin and come up with my own conclusions after hearing all of the facts.
Some of the data led me to question whether the Rudd government had got the science right. I then took some of the information and questions I had to the White House where I met with one of President Obama's senior climate change advisors. While these discussions were fruitful, I was left at the end with even more questions than when I had started.
In an effort to try to get to the bottom of the issue I started to talk to a number of scientists based in Australia to get a feel for what their views were on the subject. Amongst the many presentations, one item really stood out. I was presented with a graph based on data that IPCC use which showed carbon dioxide emissions sky rocketing over the last 15 years while global temperatures had remained steady.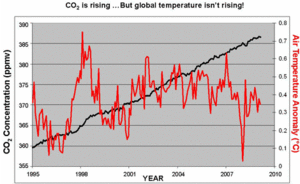 This graph left me nothing short of flabbergasted. Up until this point I had truly believed that human made carbon dioxide emissions were responsible for climate change.
However, this graph basically said otherwise. I was left asking myself how I could vote for a carbon pollution reduction scheme if it appeared as though carbon dioxide emissions were not driving climate change. It is important to point out that the IPCC had predicted in their models that there would be a direct correlation between increasing carbon dioxide emissions and increasing global temperatures. However, if you look at the graph it is obvious to everyone that
this correlation simply does not exist
.
Armed with this information I sat down with Minister Wong, the Chief Scientist and Professor Will Steffen of the ANU to hear their explanation. After an hour and a half I left none the wiser.
I received a written response to my questions from the Minister a few days later which had me even more uncertain.
According to the Minister, air temperature, a measurement relied upon by the IPCC and the Rudd Government to justify its emissions trading scheme was irrelevant
.
Instead, I was told that I should really be concerned with the variability in ocean temperatures. Not only did this contradict all of the information which the Minister had provided me with only a few days earlier but I was also aware of an IPCC report which stated that the measuring of ocean temperatures was not reliable.
I went back to the government with this question but was met with a wall of silence.
They had clearly decided it was safer not to engage with me because I had
legitimate questions
which they probably were unable to answer
.
I was left feeling that the only responsible thing to do was to vote against this legislation. At the end of the day, it would be a betrayal of my duty to the Australian people to put at risk the national economy and many thousands of jobs on what is clearly inconclusive science.
But then enter Al Gore. Here was a man who had a lot of power and went around the world preaching about climate change. I thought he might have the answer for me, the ones I couldn't extract from the Rudd government.
I briefly met Mr Gore at a breakfast in Melbourne attended by more than a thousand people. He was aware of the important role Family First plays in the senate and was keen to catch up.
After a series of phone calls
I was met with a stonewall of resistance
. I offered to meet Mr Gore at any place at any time but had no luck. Here we had the former Vice President of the United States, a self proclaimed climate change preacher running away from me over a few simple questions.
I could hardly believe it
.
I would have thought if Al Gore was really committed to the cause he would want to meet with all senators who had concerns about the science if it would help ensure that the CPRS legislation would pass.
Obviously I was wrong
.
I have written to every senator urging them to look at the graph and ask themselves the key question - what is driving climate change? If they can't answer that simple question they shouldn't be voting for a CPRS. This decision is the biggest economic decision in this country's history, one which is too important to vote along party lines.
I call on the government to answer my question with a straight answer. If they're not prepared to do so, I'm happy to fight the lone battle in the senate until those senators who are honest with themselves break party lines.