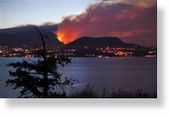 Emergency crews made slow progress Sunday to contain wildfires that have forced thousands of residents of a western Canadian community to flee their homes.
Wind and dry conditions were fueling the large blazes that broke out Saturday in the rugged hills along Okanagan Lake west of the city of Kelowna, British Columbia, where housing subdivisions have encroached on the surrounding forest in recent years.
"The winds are definitely adding to the fire activity," said Elise Riedlinger, a spokeswoman for the British Columbia Forest Service, which has not estimated when the fires can be brought under control.
No injuries or deaths were reported, but at least three homes are known to have been destroyed and possibly more. Fire crews and employees manning waterhoses were able to protect a large Gorman Brothers Ltd. sawmill complex that had been threatened.
About 17,000 people have been told to either leave their homes or be ready to evacuate on a moment's notice if asked by emergency officials.
The Glenrosa fire, which was the first to erupt, had grown to 988 acres, while the Rose Valley Dam fire, which broke out a few kilometers (miles) to the north had grown to 370.5 acres. The Glenrosa fire was about 40 percent contained, but the canyon terrain of the Rose Valley blaze was hampering ground crew's efforts to build a fire guard, officials said.
A third fire burning out of control northwest of Kelowna had grown to 2,099.5 acres. It did not threaten any populated areas but was adding to smoke problems in the area. Kelowna, in the Okanagan Valley of south-central British Columbia, is about a 248-mile drive east of Vancouver. It is the heart of Canada's west coast wine industry and a popular vacation spot.
Police said the cause of the fires was under investigation.
Helicopters and aircraft dropped water and fire retardant on flames to back up the more than 200 firefighters working on the ground.
Adding fuel to the fire were trees that have died in recent years because of an infestation of mountain pine beetles.
Emergency officials were dealing with the situation using plans developed after the Kelowna area was struck by massive wildfires that destroyed more than 200 homes in 2003.
"Significant progress has been made since the 2003 fire season," Kash Heed, British Columbia's provincial public safety minister, said.