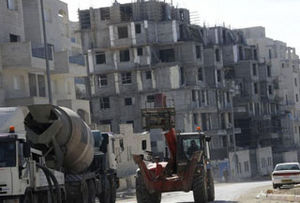 The US has denied a report that it has reached a compromise that would allow Israel to continue the construction of settlements that has already begun.
"That report in that Israeli media outlet is inaccurate,"
State Department Spokesman Ian Kelly said after the
Maariv
newspaper reported that the Israeli Defense Minister Ehud Barak and US envoy George Mitchell had struck such a deal.
"Our bottom line is the same. It has not changed," Kelly said.
"And that's that all parties in the region have to honor their obligations," Kelly added.
On Wednesday,
Maariv
reported that the compromise was reached during a meeting in London on Monday between the Israeli Defense Minister Ehud Barak and the US President Barack Obama's special envoy to the Middle East, George Mitchell.
However, President Obama has repeatedly called on the Israeli Prime Minister Benjamin Netanyahu to stop building settlements.
Kelly also added that Mitchell plans to travel to Israel soon to continue his discussions, saying that his talks with Barak on Monday had been "good" and "productive." He gave no dates for the planned visit.