www.stormx.com/agriculture
Since soybean planting began in Arkansas in mid-April, rainfall has been over 200% of normal in major growing areas in the state.
Accounting for 4% of US soybean production, Arkansas has just 55% of the crop planted, compared to the 5-year average of 82%.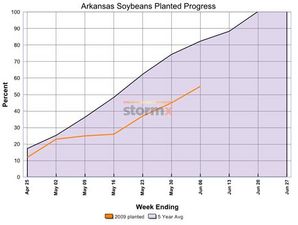 Consequently, emergence is also behind schedule due to the late planted crop. In Jonesboro, Arkansas, located in the northeast portion of the state, May featured 8.35" of rain compared to 4.92" on average. In June, 3.64" has already been tallied up. The normal for the entire month is just 3.29". Through the weekend, there will be several chances for showers and thunderstorms, with 1-3" of rain possible.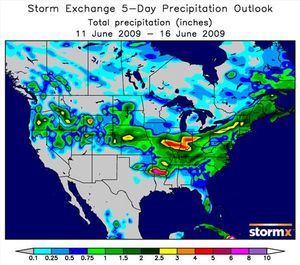 Next week, models are indicating a shift to a drier pattern.