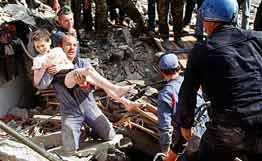 Over 100 people have been killed after a powerful quake hit the mountainous region of Abruzzo in central Italy, the Apcom news agency said on Monday.
Prime Minister Silvio Berlusconi said at a news conference in L'Aquila, the region's capital and close to the quake's epicenter, that about 1,500 people had been injured when the earthquake, measuring 6.3 on the Richter scale, struck in the early hours.
He added that the death toll "topped 50 people," but it was likely to rise as rescuers continue their search of the debris.
The SkyTG24 TV channel earlier reported, citing rescue officials, that at least 92 people were killed.
Italian Prime Minister Silvio Berlusconi canceled his two-day visit to Moscow scheduled to start on Monday following the devastating quake.
The rescue operation is ongoing with workers searching through the debris to try and find those trapped.
Civil Protection Agency chief Guido Bertolaso described the quake as "incredibly powerful and devastating" and said the rescue efforts were complicated.
"We cannot use machinery as any wrong movement could lead to the deaths of those trapped," he said, adding that the exact number of casualties would be known later.
Some 50,000 people are reported to be homeless following the quake with around 10,000 buildings destroyed or damaged.
A number of foreigners are reported to have been killed or injured in the quake. The Russian consulate in Italy is trying to establish whether Russian nationals are among the casualties.