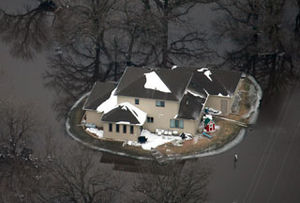 The swollen Red River and melting snow in the central-north US state of North Dakota have threatened to flood the city of Fargo.
After the level of the Red River inched downward throughout Sunday and Monday, there was hope that the damage caused by the rising tide was over. An early spring snowstorm, however, has swept into the area, prompting officials to think otherwise.
The river is expected to crest at nearly 12 meters, very close to the top of the city's main dike. Winds of 40 to 65 kilometers per hour are hampering emergency efforts
The alarming water level is causing intense anxiety among local residents who have started filling and stacking sandbags to help in the fight to save their city from potential disaster.
Families were issued mandatory or voluntary evacuation notices from city officials and National Guard members.
Fargo Mayor Dennis Walaker revealed in a flood meeting on Tuesday morning that federal officials had urged him to evacuate the entire city, but he believes residents will not leave without a fight.
Army helicopters and Coast Guard choppers circle the area using infrared cameras to survey the dikes in search of the slightest leak, or worse, a total breach.
US President Barack Obama has touched on flood relief efforts.
Obama says while he continues work to repair the nation's economy, the raging waters of the Red River have also commanded his attention.
"Even as we face an economic crisis which demands our constant focus, forces of nature can also intervene in ways that create other crises, to which we must respond, and respond urgently," he said.