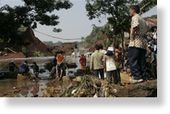 Survivors say when the dam gave way in the middle of the night, water surged through their neighborhood outside Jakarta like a tsunami, demolishing hundreds of houses, tossing cars and uprooting trees. At least 58 people were killed and dozens remained missing Friday.
Days of torrential downpours had filled a large lake bordering the low-lying residential area southwest of the Indonesian capital to flooding point. A huge section of the Dutch colonial-era dike tore away at around 2:00 a.m.
More than 70 million cubic feet (2 million cubic meters) of water roared through the gaping hole, nearly emptying the lake's basin and inundating homes up to the rooftops. Bodies were dragged several miles (kilometers) in the muddy current.
"The water was so strong it was like a tsunami," said Cecep Rahman, 63, who lost his wife, son and 10-month-old granddaughter. "I couldn't do much for my family. I was swept away and battered by debris."
He was among hundreds gathered at the nearby Muhammadiyah University that was turned into an emergency center and makeshift morgue. Soldiers and police carried bodies and laid them on the floor of a mosque to be prepared for burial.
Mothers wailed as they were asked to identify their dead children. Medical workers treated the injured for cuts and bruises, while hospitals filled with those more seriously hurt.
Health Ministry Crisis Center chief Rustam Pakaya and rescue teams at the scene said at least 58 people died and 33 were unaccounted for, including some students sharing a dormitory that had stood below the lake.
With the death toll expected to rise, 100 body bags were delivered.
The images of destruction rekindled memories of the devastating 2004 Indian Ocean tsunami that killed 230,000 people, half of them in predominantly Muslim Indonesia, where western coastlines were transformed into a barren moonscape.
Some residents described a deep rumbling around midnight, when water began pouring over the rim of the 45-foot (15-meter) dam. They banged on utility poles and cooking pots to warn neighbors of possible flooding.
Hours later the dam built in 1933 gave way.
Pakaya said more than 400 houses were inundated - a 9-year-old girl was among those found on rooftops. She was unconscious when discovered by rescuers, her body blue, and died on the way to the hospital.
Many in the flooded area accused authorities of failing to recognize warning signs and repair damage to the dam. It was weakened in several places by prior flooding that was caused by blocked spillways, said Wahyu Hartono, a former official at Public Works Ministry.
"We need to find a way to take better care of these Dutch-era dams. Otherwise, there will be more problems like this," he said, blaming budget shortfalls for the disaster.
Rescuers, who paddled rubber boats to get to stranded survivors, called off the operation at nightfall as storm clouds began dumping more rain. Tent camps were hastily erected on high ground for hundreds of people made homeless.
"I'm devastated," said Cholik, 21, crying as he sat next to the body of his 54-year-old mother. His brother-in-law also was killed and his 1-year-old niece was missing. "I wasn't home last night ... I should have been there to save them."
The Ministry of Public Works said an investigation would be carried out.
Seasonal downpours cause dozens of landslides and flash floods each year in Indonesia, a nation of 235 million. More than 40 people were killed in the capital after rivers burst their banks two years ago. Critics said rampant overdevelopment, poor city planning and clogged drainage canals were partly to blame.
Every year government officials pledge to improve the infrastructure and this year was no different, especially with elections approaching.
President Susilo Bambang Yudhoyono canceled a campaign rally in the nearby town of Bandung so he could meet survivors, while Vice President Jusuf Kalla, who is running against him and arrived hours earlier, promised generous payouts to families of victims.