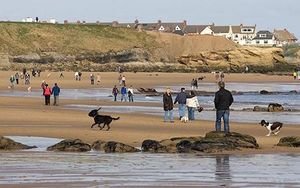 Britons are enjoying the hottest day of the year so far as forecasters predict a glorious spring week ahead.
Thousands of people flocked to beaches as temperatures matched those in Italy and Greece.
In parts of eastern England thermometers hit 59F (15C), making it one of the hottest places in Europe.
Weathermen said the burst of spring sunshine will bring even higher temperatures over the next few days and the warm spell will last until Thursday.
Coastal areas of Devon and Cornwall were packed with crowds normally seen at the height of summer.
David Priem, 32, who works in Bilbo surf shop in Newquay, said: "There were lots of people walking along the beach and it was warm enough to sunbathe.
"We haven't seen this many people around the area for a long time. Lets hope this beautiful weather is here to stay."
Chris Evans, who owns a coffee shop on historic Plymouth Hoe, said: "The weather was gorgeous this weekend."
Bournemouth was also bathed in bright sunshine for most of the day and crowds poured onto its famous seafront.
Beach-hut owners flung open their doors for the first time this year and ice cream salesman had their busiest day so far.
Day-tripper Sarah Carter, 28, from Southampton, said: "When I saw the bright sunshine first thing this morning I just had to come down to the beach."
Met office forecaster Nigel Bolton said: "There is a large area of high pressure coming up from the Azores and that is going to remain over us for a few days, bringing fine and settled weather. It's a nice taste of spring.
"This warm and mild weather will continue into the middle of the week.
"However, by about Thursday temperatures will drop below double figures and it will feel much colder."