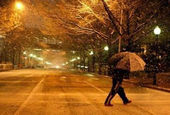 New York City may face the largest snowstorm in this year as a massive storm ravaged the eastern United States, according to US media.
Sanitation commissioner John Doherty warned that New York should expect "the largest snowstorm we've seen in this year."
The snowstorm early Monday snapped power lines, closed schools and snarled the morning commute amid freezing temperatures from Maryland to Maine.
New York Mayor Michael Bloomberg said, "It's the first of March, which you know is the month that we say comes in like a lion and out like a lamb."
According to the National Weather Service, more than one foot (30 centimeters) of snow was possible in some northern states.
New York City residents stocked up on groceries while city officials deployed extra snowplows and salt trucks to fend off the snow piles, which were expected to hit a height of up to 14 inches (36 centimeters) by daybreak.
Washington mayor Adrian Fenty declared a snow emergency in the nation's capital on Sunday afternoon, hours before snowflakes began to fall.
Officials told
The Washington Post
that
the storm, expected to drop up to 10 inches (25 centimeters), could be the largest in three years
.
The heaviest snow in the region was forecast for Massachusetts, Rhode Island and northeastern Connecticut, with up to 15 inches (38 centimeters), AFP reported.
Philadelphia was also under a snow emergency and residents were advised to expect up to 14 inches (36 centimeters).