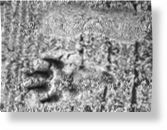 Can you identify this huge paw print?
The marking was discovered in a bunker at a Gravesend golf course - and has left the finders puzzled.
The question now is whether it was left by the elusive black panther believed to be roaming north Kent, pranksters - or some other exotic creature.
The large tracks were discovered by golfer Paul Bowles in a sand bunker.
The 28-year-old, of Wrotham Road, Gravesend was playing a round of golf with friends at Southern Valley Golf Club on Saturday, February 14, when they spotted the set of footprints by the seventh and 11th hole.
Mr Bowles said: "My brother Kevin put his size 10 foot beside it and it wasn't much smaller. The tracks stretched across the width of the bunker. I can't see how it could be a hoax because there were no other markings in the sand."
Only last week The Messenger reported on a big cat sighting in a field near Bean Primary School.
It is also not the first time unusual animal tracks have been discovered on the golf course in Thong Lane, Shorne.
A member of staff revealed how the paw prints are becoming a popular talking point at the club.
She said: "There have been prints like this before. It is usually the green keepers who spot them when they are out first thing in the morning. We think it is a panther."
But badger experts have ruled out any links to that animal.
- For more news from Gravesend click
here
>>>