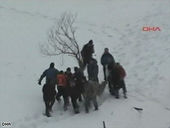 At least 10 mountaineers were killed Sunday in an avalanche at a ski resort in northeastern Turkey, authorities said.
Rescue workers pulled out at least seven people alive from under the snow at the resort in Zigana, Enver Salihoglu, the governor of Gumushane, told CNN-Turk.
At least two of the survivors were hospitalized, he said.
The city of Gumushane is about 30 km (18 miles) from the site of the avalanche.
Rescue efforts to find possibly more people trapped may be suspended due to hazardous conditions.
The victims were part of a group who were hiking in mountains.
"We were walking in a single-person line when all of a sudden we saw snow coming down and it took us away," one of the survivors told Turkey's Dogan News Agency from his hospital bed. "When it stopped, I was able to make a hole with one arm and I started breathing from there."
A documentary filmmaker, who had recently been working in the area, told CNN Turk that the temperature had been rising and that may have increased the risk for avalanches in the area.
It also may make the rescue effort more difficult because of the risk of shifting snow.
Police in Scotland Sunday named the three men who died in an
avalanche
in the Scottish Highlands a day earlier.
They were Eamonn Murphy, 61, and his brother, John Anthony Murphy, 63, both from Northern Ireland; and Brian Arthur Murray, 46, from Scotland.
The men were among several groups climbing the Buchaille Etive Mor in the Glencoe region. The avalanche occurred about noon Saturday (5 a.m. ET), according to the Northern Constabulary police.
In all, nine people in two separate parties were caught up in the avalanche, but five escaped injury. One person remains hospitalized, police said.
Police also reminded climbers that there is a high risk of avalanches in the Highlands in the next few days.
Avalanches are most commonly caused by a weak layer of snow on a slope covered by solid layers, according to Dr. Ed Adams who studies avalanches at Montana State University.
He was recently quoted in a
New York Times
article regarding his efforts to forecast avalanches.