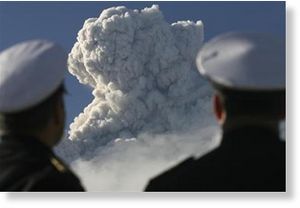 Santiago - Chile's government said on Friday the area surrounding the Chaiten Volcano, which erupted in May for the first time in thousands of years, was still not safe and that a decision regarding the future of the town of Chaiten would be made in coming days.
The Volcano, only six miles from the town, started spewing ash, gas and molten rock on May 2, forcing the evacuation of about 7,000 residents.
A cloud of debris that soared as high as 20 miles into the air was kept aloft by the pressure of constant eruptions for weeks, and even covered towns in neighboring Argentina with volcanic ash.
"We received the latest report from the Universidad Catolica ... and the only thing I can tell you is that the volcano is exactly as dangerous as it was before," Interior Minister Edmundo Perez-Yoma told reporters.
"We were hoping we might have better news, but unfortunately we don't."
The government has not dismissed the possibility of relocating the small town and making the whole area a no-go zone for years to come, but many locals have said they want to return to their homes in Chaiten.
"The volcano is still active," Perez-Yoma said. "Given the latest definitive information, we will be making a decision in the coming days."
Chile has the second largest and most active chain of volcanoes in the world after Indonesia.
About 90 percent of the town was flooded in May as volcanic ash caused nearby rivers to breach their banks.