Canada has been blanketed in snow from coast to coast after severe winter storms hit transport and left tens of thousands of homes without electricity.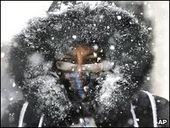 Strong winds and snowfall have hampered relief efforts, with meteorologists forecasting more bad weather to come.
"It's a widespread and severe winter storm and it's not over yet, with these high winds expected to continue for some time," a Nova Scotia Power spokeswoman told the Canadian Press news agency.
Coastal areas of Nova Scotia have been issued with storm warnings and Vancouver, Quebec and Ontario were also braced for more wintry weather.
Analysts say Canada may have its first countrywide white Christmas since 1971.
Several areas in the US were also bracing for an extended cold snap, with storm warnings in place across a number of states after a weekend of hurricane-force winds and heavy snowfall.
Coastal blizzards
Meteorologists with Environment Canada have issued snowfall warnings across the country.
In eastern Canada, Nova Scotia Power reported that tens of thousands of customers were without electricity, with more snow forecast to fall.
Some ferry services to the south-eastern province have been cancelled, while cross-country rail networks have also been affected.
Air travel delays have been reported in Toronto and Charlottetown, while flights were cancelled at Fredericton Airport in the south-east after it was covered in more than 1ft (30cm) of snow.
Sub-zero temperatures also gripped parts of British Columbia as meteorologists warned of blizzards up and down Canada's west coast.
In the north-western territory of Yukon the temperature reportedly dropped as low as -45C (-49F).