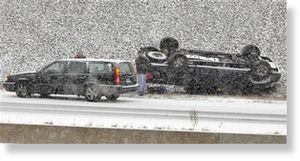 A winter storm packing snow, freezing rain and biting wind cut power to tens of thousands of customers Friday, disrupted travel and gave schoolchildren from Iowa to New England an early start on their holiday break. "One thing about it, you're going to have a white Christmas this year," said Lee Longdyke, as he shoveled a sidewalk in Pontiac, Mich., for the third time Friday morning. More than 200 flights were canceled at Chicago's O'Hare International Airport, and more than 650 at three New York City-area airports. Many remaining flights had hourslong delays.
Runways at Milwaukee's airport were closed for much of the morning because snowplows could not keep up with "whiteout conditions," airport spokeswoman Pat Rowe said.
Snowfall affected a large region, but the worst of the ice storm - and resulting power outages - was in a band across northern Illinois, Indiana and Ohio. Power companies reported 60,000 customers in Illinois without service Friday, more than 35,000 in Ohio, and a whopping 180,000 in Indiana, where the area around Fort Wayne was particularly hard-hit.
"When you combine ice, which is an electric utility's nightmare, with wind, you've got some serious issues," said Indiana Michigan Power spokesman Mark Brian.
Freezing rain was also a problem in Iowa, but authorities there said only scattered power outages were reported, because there wasn't much wind to bring ice-laden tree limbs down onto power lines.
A foot or more of snow fell in parts of Michigan, and some areas reported wind gusts of up to 25 to 30 mph. Nearly 8 inches of snow had fallen in Detroit by midafternoon.
Schools were closed across the region. The Toledo Zoo was forced to cancel its holiday season light show for Friday evening.
In Madison, Wis., "The Nutcracker" went on as scheduled, but the expected audience of 2,000 dwindled to about 150 thanks to school closings.
"I told the cast after warm-ups all you need for a show is one (person)," said W. Earle Smith, artistic director of the Madison Ballet.
In the Northeast, hard hit by last week's ice storm, snowfall totals of up to 15 inches were forecast. Biting, wind-whipped snow began late morning in White Plains, N.Y.
"I thought I had enough on," said Gloria D'Arce, 29, as she tried to keep out of the wind while waiting for a light to change. "But this is coming sideways, right in my face. I'm, like, two blocks from my car and I feel like I'm not going to make it."
The evening rush-hour jam began a few hours early in Rochester, N.Y., where 6 inches of snow had already fallen by midafternoon.
Fearing afternoon traffic jams, Massachusetts Gov. Deval Patrick asked nonessential state employees Friday morning to stay home. But in New York City, Mayor Michael Bloomberg sounded more concerned about the economy than the weather.
"There's really no reason to stay indoors today," he said. "Go to work, get in the last-minute holiday shopping - the stores need the business, and you need to buy things and an awful lot of things are on sale."
In New Hampshire, several thousand homes and businesses were still in the dark more than a week after last week's storm. As authorities prepared for the new storm, Gov. John Lynch said the state hoped to get utilities to improve their communication with customers in the future.
"I certainly understand that people in New Hampshire are cold, they're tired, and in many cases they're frustrated, especially with Christmas coming," Lynch said.
On Wednesday and Thursday, wintry weather had made life miserable in parts of the West. A record December snowfall of 3.6 inches was recorded in Las Vegas, while in Spokane, Wash., nearly 2 feet of snow fell and more was in the forecast for this weekend.
On Friday, 11 people were hurt in Seattle when two charter buses crashed on an icy street, pushing one through a guardrail next to Interstate 5 and leaving its front wheels dangling above the freeway.
Heavy snowfall preceded an alert for high avalanche danger in northern Utah mountains throughout the weekend.