Falling snowflakes glimmered in streetlights, so wide that they billowed to the ground like parachutes, and so tantalizing that even awestruck adults reached out their hands or stuck out their tongues to catch one.
By Wednesday evening, the flakes were big enough to hold their shape for a moment on the street before melting into the pavement, and a dusting had collected on parked cars in some parts of town.
The flurries tied a record for Houston's earliest snowfall ever and warmed the hearts of winter weather lovers who have pined for snow since it last made an appearance on Christmas Eve 2004.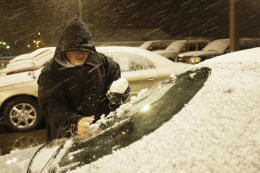 "I've got a pot roast in the Crock-Pot, and I'm going to go home, change into my warmest pajamas and eat pot roast and enjoy what may be the only real winter day we have all year," said Tina Arnold, an Illinois native who took advantage of the wintry backdrop to pick up Christmas presents Wednesday at The Woodlands Mall.
Since 1895, records indicate, snow has fallen this early just once - on Dec. 10, 1944.
Ali Ahly had been cooped up in an office all day when he stopped to gas up his white Mercedes-Benz near the corner of Hillcroft and the Southwest Freeway at 7:30 p.m.
The 43-year-old, wearing jeans and a leather jacket, stepped out from under the gas station canopy and looked up as the downy flakes sifted toward him. Then he stretched his hand toward the sky.
"This is real snow," he said. "I feel like I'm in Lake Tahoe."
Ahly's 9-year-old daughter is the family's true snow aficionado, he said. She went running around a mall parking lot that afternoon when the flakes began to fall.
"She's going nuts," he said.
Across the street from the gas station, a line formed for lattes and hot chocolate at the Starbucks drive-through window. There was no wait at the cash register inside, however.
"People just don't want to walk inside," said a barista.
Outside, 18-year-old Ingrid Mejia beamed in the brisk night air as her 10-year-old brother shivered in cargo shorts.
"I'm excited," Ingrid said. "I just hope it stays overnight, so it's on the ground when we wake up."
The Lamar High senior wasn't holding her breath for a snow day, though. She couldn't think of a time when winter weather had delayed school.
"I don't think so, unless it gets to be a blizzard," she said hopefully.
Late Wednesday, there were no reports of school or business closings Thursday morning in the Houston area.
Patrick Trahan, a spokesman for the city, said the icy weather was expected to taper off overnight and was not expected to disrupt morning traffic. He added that if conditions did not improve, the Public Works Department would clear the roads this morning.
Forecasters at the Houston/Galveston office of the National Weather Service said clouds and precipitation should give way today to sunshine and temperatures in the upper 50s.
Overnight lows for all areas but those north and west of Harris County were expected to stay above freezing tonight, said the weather service's Paul Lewis.
Snowfall in the metro Houston area Wednesday caught forecasters somewhat by surprise. A significant chance for snowfall didn't show up in computer models until about 9 p.m. Tuesday.
"The midnight crew adjusted the forecast at that time," Lewis said.
Because the ground in the Houston area was relatively warm - 77 degrees as late as Tuesday afternoon - neither snow nor ice was expected to stick and cause major transportation problems for long.
Still, because a freeze was expected to overnight, a winter weather advisory was issued Wednesday evening for much of Southeast Texas, including Harris County, because of the potential for slick, icy conditions north of Interstate 10 on bridges and other exposed areas.
By 9 p.m. Wednesday, the overpass on the Eastex Freeway at the beltway had frozen, authorities said.
"We are asking drivers to be careful on the roadway, mindful of the danger," said Harris County Sheriff's Office spokesman Lt. John Legg.
Daytime highs should return to the 70s by Sunday. Early next week, possibly Monday night, another cold front is expected to reach Houston, but it isn't expected to pack the punch of this week's chilly frontal system.
Wednesday's brush with winter left some Houstonians less enamored with the snowfall, including those stuck in delays of up to three hours at local airports. Drivers unaccustomed to snow encountered difficulties on the roadways, and even getting into their cars.
Paul Ramirez spent several minutes digging through his truck Wednesday evening outside the Fry's electronics store on West Road, trying to find something he could use to scrape the ice and snow from the windshield of his truck.
"It's really coming down," said Ramirez, 33, as he tried dragging a large envelope across his window. "This is crazy. It's Houston - we shouldn't need to keep ice scrapers in our cars."