Beijing - A magnitude 6.6 earthquake killed at least 30 people in Tibet on Monday with a number of people buried in debris, Xinhua news agency said.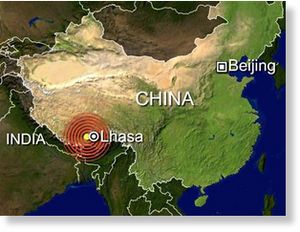 The victims were found near the epicenter in Gedar township of Damxung County, around 80 km (50 miles) west of the regional capital Lhasa, Xinhua reported.
"More people were still buried in debris and many houses collapsed," Xinhua quoted a local government official as saying.
The U.S. Geological Survey said on its website the quake struck at around 4:30 p.m. (4:30 a.m. EDT).
Traffic and telecommunications were cut off in Gedar, while soldiers and medical staff were rushing to the site, it said.
Deaths and injuries were also reported in a neighboring county, but the exact number was unclear. The Qinghai-Tibet railway and Lhasa airport were reporting normal services.
Residents in Lhasa felt the quake, but there was no visible damage. Closer to the epicenter, near Ningzhong Town in the county of Qushui, buildings trembled and windows rattled.
Some schools in Lhasa were let out early, Xinhua said.
"It lasted for around one minute and there was an aftershock about 15 minutes later," said Zhang Dong, who works in the office of the director of Qushui County Hospital.
It came a day after a quake in neighboring Kyrgyzstan killed 70 and flattened a village, and the same day as another strong quake in Afghanistan.
The Tibet quake also comes just months after the massive Sichuan earthquake, which killed at least 80,000 and devastated whole towns on May 12.
Just after midnight local time another quake registering a magnitude 5.7 hit an area near China's western border with Kyrgyzstan and Tajikistan, about 20 minutes after the Kyrgyzstan tremor.
Four homes collapsed and over 200 were damaged, but nobody was hurt, Xinhua had reported.