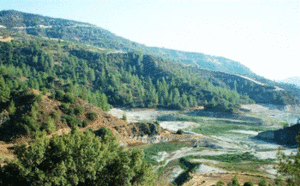 ©Margo Aldridge
Dry: The Arminou Dam
Cypriots have been warned that the island is running dry and that careful conservation of water is now even more important, as it will take two more months before additional sources are available.
With Cyprus still suffering from an extreme dry spell, the EU has classified the drought-stricken country as eligible for emergency funding.
Water authorities are still unhappy that, while reserves are dwindling fast, people are still hell-bent on watering their pavements.
To avoid being caught, many wait until the dead of night before showering the streets with precious resources, officials claim.
This maybe why the government target of making water saving of 30% has not been reached.
"Thirty per cent is unreachable. It means that a lot of people will not receive water. We need to save water to reach the set target but we also need to serve the consumers," said Nicosia Water Board's Pantelis Panteli.
Although the water board is trying to cope as best it can, further cuts cannot be ruled out if much needed rain does not come.
Due to a reduction in supply some parts of Limassol and Larnaca have gone without water beyond the designated period.
Limassol is running on empty and water from Greece is not coming fast enough to replenish scarce resources.
Under strain
Resources were put under strain this week as improvements were made to the Larnaca desalination plant.
After three days of upgrading work, the plant now has the ability to produce an increased 20% of capacity.
The water development board is trying to find other ways to obtain as much water as possible.
Among the short-term solutions is creating a platform from which water will be pumped from the subsoil of Kouris dam.
It is estimated that there is only 708,000 cu.m of water remaining in the dam, half of which is considered 'dead storage' in the underground soil.
The pumping of this water will provide Limassol with water for about a week, but the project's total cost is estimated at about έ40-50,000.
The exploitation of boreholes is another last-ditch measure and getting a new desalination plant up running at Moni. But this plant will not be operational until November, a month later than re-scheduled.
Some of the driest weather on record has seen the reservoir capacity drop to 4.2% of total capacity against 18.6% this time last year.