A mountain town is trying to pass a law that would ban a preacher from its streets.
The man known as "Brother Nathaniel" likes to spread his religious message from a median right in the middle of traffic where Interstate 70 meets Highway 9.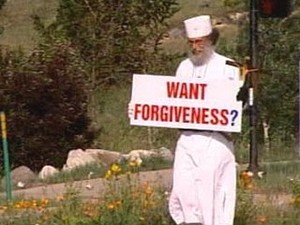 ©CBS
Brother Nataniel
Silverthorne Police Chief Mark Hanschmidt said distracted drivers could hit the man while he's in the median. He said the proposed ordinance is nothing personal, but Brother Nathaniel said he thinks he's being singled out.
"His signs are really simple. They are small. It says, 'Want forgiveness?' a driver told CBS4.
"He's distracting drivers and I'm concerned for his safety as well as the safety of the drivers," Hanschmidt said.
Brother Nathanial said he's going to fight the proposal.
"You're not going to have a cake-walk putting it through, I've got lawyers, I'm going to fight it, Chief," Brother Nathaniel said. "And also be on record that you are an enemy of Jesus Christ."
The sight has also seen many accidents not related to people in the median.
"They are singling me out. They have it out for me and it's because of the cross," Brother Nathaniel said. "It's not the messenger, it's not a safety issue."
Hanschmidt said Brother Nathaniel is free to preach on the sidewalks.
"We want to work with him," Hanschmidt said. "I just don't want him to get hurt."
"My constitutional rights are being violated to express the greatest sacred treasure we have in the United States; freedom of speech," Brother Nathaniel said.
Hanschmidt said he just doesn't want a fatality when it could be prevented.
Last year, Brother Nathaniel was shot by an air gun while on the road. He suffered minor injuries.