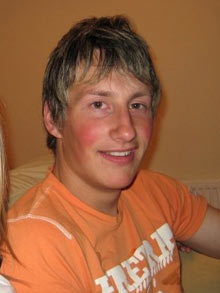 ©Wales News Service
Mr Davies was also a Facebook "friend" with one of the recent Bridend victims
A young man has been found hanged in Bridgend - the 23rd tragedy in the town in 20 months.
Rhys Davies, 23, lived in the same part of the town as three of the recent victims - all young men aged between 19 and 28.
Part-time DJ Rhys committed suicide just days before he was due to fly out to Benidorm with friends for a holiday.
He lived in Bettws, just streets away from the 21st suicide victim Neil Owen - who was also due to go on holiday just before he died.
Neil's sister Nicola Owen left a tribute on Rhys's social networking site Facebook.
She said: "Rhys why!!!! I'm so gutted that another good one has gone I just cant take it in. You are going to be missed so much. You were a cracking boy and no one would have a bad word to say about you.
"Miss you already babe. I'll never forget you. R.I.P Rhys and keep smiling."
Mr Davies was also a Facebook "friend" with the former girlfriend of Carwyn Jones, of Bettws, the 22nd young victim to die.
But police yesterday(mon) maintained the string of apparent suicides, all by hanging, are not linked.
Mr Davies's last message on Facebook before he died said: "Rhys is go 2 rip up benidorm on the 14th! Ye baby!"
More than 40 of his friends in the South Wales town left RIP messages on the website - with at least one saying they were left feeling suicidal by his death.
That message said: "I'm hurting Rhys ... I want to kill myself."
Others paid tribute to Rhys's fun-loving nature, his outgoing personality and his kindness, running errands for elderly people in the town.
Close friend Nick Cahill said: "I can't get over it Rhys. Whatever the problem was it would have gone in time. I wish it was a dream and I'll wake up and you're still here.
"It was a pleasure to know such a kind and helpful person like you - I will never forget you butt. If you only knew how much you were loved by everyone I'm sure you wouldn't have done this."
Mr Davies was a regular at the Oddfellows Arms in Bettws, Bridgend, the pub used by the three other victims from the village.
Sean Rees, 19, Neil Owen, 26, and Carwyn Jones, 28, all lived in the same street in the town.
Sainsbury's shopworker Mr Rees was found hanged in a lane in Bridgend in April.
Mr Owen was found hanged at an industrial estate in Bettws in May - also just before he was due to go away on holiday.
Young dad Mr Jones - Sean's best friend - was found hanging from a tree on the eve of Neil's funeral.
South Wales Police have maintained those deaths were not linked - and said they do not believe there is a connection with Rhys's death.
A spokeswoman said: "We can confirm the sudden death of a 23-year-old man from the Bettws area of Bridgend. Police were called to the address in the Bettws area at around 11.54am on Saturday, August 9, 2008.
"There are no suspicious circumstances and an investigation is being carried out on behalf of the coroner. The death is not believed to be linked to any other recent sudden deaths in the area.
"We would appeal to the media to report this tragic incident sensitively to minimise the impact on family, friends and other vulnerable persons."
An anti-suicide task force involving health and education officials has been set up in Bridgend in a bid to tackle the "cluster" of young deaths.
Officials figures show there were three young suicides in 2005 and three in 2006.
But in 2007 there were 11 and there have been 12 so far this year.