A mysterious skeleton found washed up on a Florida beach has scientists scratching their heads.
Eleven-year-old Rylee Robinson of McKinney, Texas found the bones on the shore of Longboat Key earlier this week while on vacation. Rylee told News First, "The skull was kind of scary, with humongous eye sockets, and spikes on its back." She said the skull still had flesh on it, and cartilage connecting the backbone to the skull.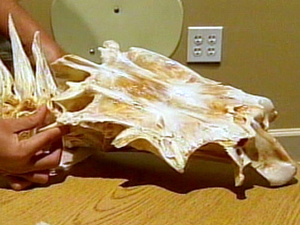 ©Unknown
Robinson and her family took the bones to the South Florida Museum to see if the creature could be identified, but officials there are stumped. Marine biologists at Mote Marine Laboratory in Sarasota are investigating.
The creature's skull weighs 30 pounds, and the vertebrae have long, sharp points.
When it's all sorted out, Rylee's eight-year-old brother Kyle wants to hang the skeleton in his bedroom unless, Rylee said, "Someone offers us a lot of money for it!"