Firefighters got a gift of a mild, mostly windless night and a forecast for similar conditions Sunday as they attempted to protect thousands of Santa Barbara County homes from a huge wildfire, one of more than 300 taxing their energy and resources around the state.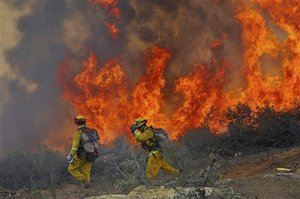 ©AP Photo/Phil Klein
Firefighters watch as a brush fire burns out of control in the Santa Ynez Mountains near Goleta, Calif., on Saturday July 5, 2008. A slew of wildfires, most ignited by lightning two weeks ago, have burned more than 800 square miles of land throughout California. The blazes have destroyed at least 67 homes and other buildings and contributed to the death of a firefighter who suffered a heart attack while digging fire lines.
"The firefighters are stretched thin, they are exhausted," and some have gone days without sleep, Gov. Arnold Schwarzenegger as he visited a command post in the coastal region of Santa Barbara County, where nearly 2,700 homes were threatened by a four-day-old fire in the Los Padres National Forest. The blaze has blackened about 13 square miles.
Fires have burned more than 800 square miles of land and destroyed at least 69 homes throughout California in the past two weeks. One firefighter died of a heart attack while digging fire lines.
About 1,400 fires have been contained, but more than 330 still were out of control by Sunday morning.
The Santa Barbara County fire, now the state's top priority, was less active Saturday because of cooler, moist air, said county spokeswoman Pat Wheatley. And evening fell without the return of the late afternoon "sundowner" wind that had sent flames racing up to homes earlier in the week.
"We've been pleased by some cooperative weather," Wheatley said. "The 'sundowners' that we were afraid could happen did not happen much tonight so that gave us an opportunity to fight the fire without fighting the winds."
The fire was 28 percent contained, she said.
Over 2,600 homes were under mandatory evacuation orders Saturday and residents of 1,400 others were warned to be ready to flee if the flames gathered speed.
The fire, fueled by 15-foot-high, half-century-old chaparral, still had the potential to roll through a hilly area of ranches, housing tracts and orchards between the town of Goleta and Santa Barbara, keeping firefighters on their toes.
"They're feeling very good about this, but they are not taking this fire lightly at all," Wheatley said.
Temperatures dipped to around 60 degrees during the night, but were forecast to reach the high 70s later Sunday.
Nearly 1,200 firefighters were assisted by a DC-10 air tanker and other aircraft dumping water and fire retardant along ridges and in steep canyons.
Investigators think the fire, which began Tuesday, was human-caused. The U.S. Forest Service on Saturday asked for public help in determining who set it and whether it was sparked accidentally or on purpose.
Meanwhile, cooler weather helped crews attacking the two-week-old blaze that has destroyed 22 homes in Big Sur, at the northern end of the Los Padres forest, but the fire continued to grow slowly on all flanks Saturday night.
The fire, which had blackened 111 square miles, was only 5 percent contained with full containment not expected until July 30, but morning fog that moved in from the sea helped prevent it from advancing on Big Sur's famed restaurants and hotels.
"We're gaining ground, but we're nowhere near being done," said Gregg DeNitto, a spokesman for the U.S. Forest Service. "There's still a lot of potential out there. The fire has been less active the last couple of days. We've had favorable weather; they are taking every opportunity to get some line on it."
The weather was expected to become hotter and drier over the next couple of days, he said, with wind and temperatures rising and humidity dropping.
"The fire still has the potential for movement and the potential to get out of our containment lines," he said.
___
Associated Press writers Samantha Young in Sacramento, Christopher Weber in Los Angeles, Lisa Leff in San Francisco and Amanda Fehd in Berkeley contributed to this report.