Firefighters in Northern California battled more than a thousand wildfires to a stalemate by Sunday, but forecasters said dangerous conditions would not relent anytime soon.
No new major fires had broken out Sunday as fire crews inched closer to getting some of the largest blazes surrounded, according to the state Office of Emergency Services.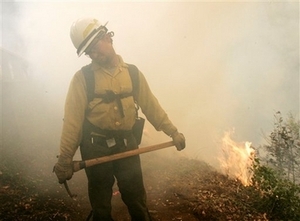 ©AP Photo/Marcio Jose Sanchez
Brandon Hoefs, of Nebraska, a member of the Mid Plains Interagency fire crew, turns away from a wildfire as it nears the deck of a home on Partington Ridge Rd. south of Big Sur, Calif., Friday, June 27, 2008. Fire crews continue to fight the Basin Complex fire, which is burning in the Los Padres National Forest near the coastal town of Big Sur.
But a "red flag warning" - meaning the most extreme fire danger - was still in effect for Northern California until 5 a.m. Monday. And the coming days and months are expected to bring little relief.
Forecasters predicted more thunderstorms and dry lightning through the weekend, similar to the ones that ignited hundreds of fires a week ago. Meanwhile, a U.S. Forest Service report said the weather would get even drier and hotter as fire season headed toward its traditional peak in late July and August.
Lower-than-average rainfall and record levels of parched vegetation likely mean a long, fiery summer throughout Northern California, according to the Forest Service's state fire outlook released last week.
The fires burning now could take weeks or months to bring under full control, the report said.
Those blazes were mostly sparked by lightning storms that were unusually intense for so early in the season. But summer storms would probably be even fiercer, according to the Forest Service.
"Our most widespread and/or critical lightning events often occur in late July or August, and we have no reason to deviate from that," the agency's report said.
The blazes have scorched more than 550 square miles and destroyed more than 50 buildings, said Gregory Renick, state emergency services spokesman.
A wildfire in the Los Padres National Forest has forced the closure of a scenic stretch of a coastal highway and driven away visitors at the peak of the tourist season.
Air quality districts from Bakersfield to Redding issued health advisories through the weekend, urging residents to stay indoors to limit exposure to the smoky air.
On Saturday, President Bush issued an emergency declaration for California and ordered federal agencies to assist in firefighting efforts.
But California emergency officials said state and local governments would also need federal financing to cover the costs of fighting so many fires this early in the year.
Federal aid now includes four Marine Corps helicopters, remote sensing of the fires by NASA, federal firefighters, and the activation of the Federal Emergency Management Agency.
In Arizona, residents of a remote mountain community north of Phoenix left their homes voluntarily ahead of a slow-moving fire, officials said Sunday. Fueling the blaze were trees killed by a beetle infestation, said Debbie Maneely, spokeswoman for the Prescott National Forest.
And firefighters southwest of Phoenix allowed evacuated residents living near a fire in the dry Gila River bed to return home Saturday. The fire was not contained but was no longer advancing.
Evacuation orders were lifted Sunday morning for residents of Tajique in central New Mexico, where a blaze has destroyed six homes. The fire, sparked by lightning June 23, was more than 60 percent contained.
In Guffey, Colo., about 40 miles west of Colorado Springs, most of the 100 residents who fled a fire were allowed back home Sunday.
A small-plane crash that killed four people touched off a wildfire northwest of Las Vegas on Saturday. Firefighters ordered the evacuation of a subdivision but expected to have the fire under control soon.