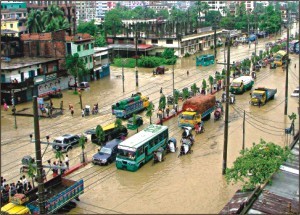 ©Zobaer Hossain Sikder
Vehicles slog through knee-deep water on the main thoroughfare at Bahadderhat in Chittagong after deluge throughout yesterday swamped much of the port city. Photo: Zobaer Hossain Sikder
Life became paralysed in Chittagong yesterday as major parts of the port city were submerged in knee-deep water following heavy rains throughout the day.
Besides, two walls collapsed at Lalkhan Bazar and Surson Road in the morning due to the downpour, but none was hurt.
According to the Met Office at Patenga, over 202 millimetres (8 inches) of rainfall was recorded in last 24 hours till 3:00pm yesterday.
City dwellers, especially the office going people and the students, faced untold sufferings to get to their destinations, as there were few vehicles in the inundated streets. Many were forced to stay indoors.
Most of the city's low-lying areas like Chawk Bazar, Badurtala, Kapashgola, Muradpur, Bohaddarhat, Chandgaon Residential Area, Katalganj, Sholokbahar, Bakalia, Chaktai, Sholoshahar Gate No-2, parts of Nasirabad Residential and Industrial areas, Zakir Hossain Road, Aturer Depot, Panchlaish, Agrabad CDA Residential Area, Halishahar, Kattali and Patenga went under knee-deep to waist-deep water due to the heavy shower that started early in the morning.
Many houses of these areas, particularly those in Badurtala, Sholokbahar, Bakalia, Chawk Bazar, Muradpur and Halishahar, were flooded by the cloudburst.
The traders at the traditional business hubs of Chaktai and Khatunganj suffered huge financial loss as the Chaktai canal, the backbone of the city's drainage system, overflowed and flooded several godowns and shops damaging goods and properties.
The traders at the Chawk Bazar and Bohaddarhat kitchen markets experienced a bad day as the markets went under waist-deep water, disrupting business.
A wall at Matijharna slum in Lalkhan Bazar area collapsed at 10:30am. Fortunately, no one was injured as the dwellers of this foothill slum were moved to a safer place only two days ago.
In the other incident, a boundary wall of Chittagong Grammar School at Surson Road collapsed at around 11:00 in the morning.
Torrential rain also hampered the operations at the port to some extent.
Besides, almost all the flights to and from Chittagong airport were delayed due to the inclement weather.