Cerro Gordo, Floyd and Franklin counties have been named federal disaster areas due to the recent flooding.
On Saturday, Cerro Gordo and Floyd counties were declared eligible for federal assistance to individuals and households.
On Friday, Cerro Gordo, Floyd and Franklin were declared eligible for federal funds for public assistance only.
Public assistance allows state and local governments and certain private nonprofit organizations to receive assistance on a cost-sharing basis for emergency work and the repair or replacement of facilities damaged by flooding.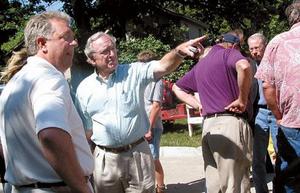 ©Globe Gazette photo by Mary Pieper
U.S. Sen Tom Harkin (second from left) visits with Tim Rozen while U.S. Sen. Charles Grassley (second from right) talks to Jim Kuhlman, Tim Stoltenberg and others during a visit to Mason City on Saturday. The senators were viewing damage along North Hampshire Avenue.
The declarations coincided with visits by Iowa's two senators, Republican Charles Grassley and Democrat Tom Harkin, to flood-ravaged areas of the state - including Mason City and Charles City
Harkin and Grassley toured flood-damaged areas of Mason City, Charles City, Nashua and Waverly and met with flood victims Saturday.
On Friday they had joined other members of Iowa's Congressional delegation, Gov. Chet Culver and Federal Emergency Management Agency Director David Paulison to view flood damage in Waterloo, Cedar Rapids and Iowa City.
"We've found a good attitude, even among those who were hurt," Grassley said during a press conference in Mason City Saturday morning.
"Sometimes it's events like this that remind us of how good people in Iowa are at working together," Harkin said.
The senators said numerous federal agencies - including FEMA, the U.S. Department of Agriculture, the Environmental Protection Agency and the Small Business Administration - also will be working together to provide relief for flood victims.
A federal disaster center will be set up in Mason City within the next few days, Harkin said.
This year's flooding might be more devastating than the flood of 1993, particularly for crops, according to Harkin.
Grassley, who has flood-damaged acres of his own at his farm near New Hartford, said it is so early in the growing season for corn that the plants will have a hard time surviving the flood.
Fortunately, the recently-passed Farm Bill includes supplemental disaster protection for crops, Harkin said.
"It's like a trust fund," Grassley said, noting Congressional approval isn't needed to distribute the money.
The senators visited the neighborhood of Seventh Street and North Hampshire Avenue in Mason City and spoke to flood victims there before heading to Charles City.