Thousands of Egyptian fishermen constantly getting skin diseases caused by polluted water.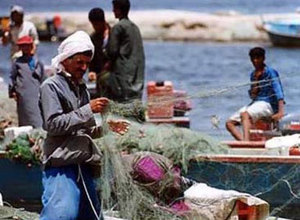 ©IRIN
Threatening the livelihoods of some 78,000 people
Ahmad Issa, 41, has been fishing in Lake Maryut [also spelt Maryout or Marriout] near the port city of Alexandria for the last 30 years. Like thousands of other fishermen, Issa said he was constantly getting skin diseases caused by the polluted water.
"I can't hold anything in my hands when my skin is infected. Doctors prescribe ointments, but even with them I have to stay at home sometimes," Issa told IRIN in a telephone conversation.
Issa earns 15-20 Egyptian pounds [US$2.82-$3.76] a day, but is more concerned about his catch, which has been dwindling.
"Fifteen years ago, I used to catch 50-60 kilos every day. Today I cannot get more than five kilos and sometimes I return empty-handed," he said, adding that what he now catches is not enough to feed his wife and four children.
Non-governmental organisations (NGOs) such as Friends of the Environment Association (FEA), the Egyptian Union of Fishermen's Cooperatives (EUFC) and the Fishermen's Association (FA), which support the fishermen, have launched campaigns against pollution in the lake.
"The fish catch has declined significantly over the past 30 years, from about 11,000 tonnes in 1976 to 5,211 tonnes in 2006," said Mohamed Al-Feky, the EUFC chairman.
"About 7,000 fishermen depend on the lake for their livelihoods and a further 10,000 work in fishing-related jobs such as ship-building, net-making and fish trading. This means the livelihoods of these people and their families (some 78,000 people) are threatened," he said. There are also 5,000 unregistered fishermen, according to the FA.
Al-Feky said some 1,000 people had given up fishing since 2006 and were now jobless. He estimated the overall losses at 86 million Egyptian pounds ($16 million) a year.
Pollution
"Alexandria accounts for about 40 percent of Egypt's industrial production, and this results in serious pollution of the lake," he said. The two waste water treatment plants did not have the capacity to treat all the sewage and other effluent, he said.
"Two thirds of the city's waste water is released into the lake and subsequently pumped into Mex Bay, west of Alexandria," he said, adding that further pollution was caused by chemical runoff due to nearby agricultural activity.
Pollution was also causing unwanted plant growth along the edges of the lake, according to Salah al-Alfi of the Maryut-based FA. "These plants hinder fishing, reduce oxygen levels in the water and hamper fish breeding," he said.
Al-Alfi said the FA had been suggesting solutions since 1999 but had had no response from the government. "We can't understand why they refuse to save the lake."
The World Bank was planning to start a project in 2006 to target pollution hotspots in the greater Cairo and Alexandria areas. However, a contact at the World Bank told IRIN the project had been shelved.
Lake being filled in
"Another grave threat to the lake is filling," said Mohamad Abdel Aziz al-Gendi, chairman of FEA.
"Filling activities started a long time ago, causing the lake to lose most of its area; today its area is 17,000 acres [in 1889 it was 60,000 acres]. These days the pace of infill is quickening. The governorate is planning to build "New Alexandria City" on 1,000 'feddans' [a 'feddan' is slightly larger than an acre] of the lake, a project which has been suspended because of our fierce opposition," he said.
"We will resort to all measures to stop the filling of this basin even if we have to go to court. They can build such projects in the desert but not on the lake which provides biological balance in the area," Al-Gendi said.
It was not possible to contact the relevant government body for comment.