BEIJING - Heavy rain hit south and east China on Wednesday, threatening reservoirs a day after a dangerous "quake lake" drained to safety in the southwest, state media said.
Water levels in at least five reservoirs in eastern Zhejiang province had risen above warning levels, Xinhua news agency said, after days of rain devastated southern Guangdong province and hit record levels in neighboring Hong Kong.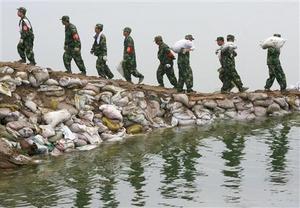 ©REUTERS/Stringer
Soldiers build a temporary dam against possible flooding at Quhe River in Suining, Sichuan province, June 11, 2008.
About 1,880 structures collapsed in Zhejiang and the southern Guangxi autonomous region.
In Zhejiang, the rain "affected" more than 930,000 people and damaged or destroyed more than 70,000 hectares (270 sq miles) of crops, halting production at 286 factories and forcing the closure of 115 roads, Xinhua quoted local officials as saying.
Meteorological authorities in Zhejiang said the region would face more heavy rain in two days.
Rainstorms brought havoc to Hong Kong on Saturday, bringing the heaviest downpour since records began and sparking widespread flooding and dozens of landslides, one of which killed two people.
The rain closed roads, including the airport highway, and hundreds of flights were delayed.
China on Tuesday declared victory over an unstable "quake lake" as floodwaters were released downstream, where hundreds of thousands had been under threat of a second crisis.
Waters poured out of the Tangjiashan lake, the largest of more than 30 formed when landslides triggered by the May 12 earthquake dammed rivers, after soldiers blasted away rocks, mud and other rubble blocking its path along a sluice.