A catastrophic water shortage could prove an even bigger threat to mankind this century than soaring food prices and the relentless exhaustion of energy reserves, according to a panel of global experts at the Goldman Sachs "Top Five Risks" conference.
Nicholas (Lord) Stern, author of the Government's Stern Review on the economics of climate change, warned that underground aquifers could run dry at the same time as melting glaciers play havoc with fresh supplies of usable water.
"The glaciers on the Himalayas are retreating, and they are the sponge that holds the water back in the rainy season. We're facing the risk of extreme run-off, with water running straight into the Bay of Bengal and taking a lot of topsoil with it," he said.
"A few hundred square miles of the Himalayas are the source for all the major rivers of Asia - the Ganges, the Yellow River, the Yangtze - where 3bn people live. That's almost half the world's population," he said.
Lord Stern, the World Bank's former chief economist, said governments had been slow to accept the awful truth that usable water is running out. Fresh rainfall is not enough to refill the underground water tables.
"Water is not a renewable resource. People have been mining it without restraint because it has not been priced properly," he said.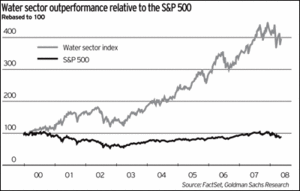 ©Goldman Sachs Research
Farming makes up 70pc of global water demand. Fresh water for irrigation is never returned to underground basins. Most is lost through leaks and evaporation.
A Goldman Sachs report said water was the "petroleum for the next century", offering huge rewards for investors who know how to play the infrastructure boom. The US alone needs up to $1,000bn (£500bn) in new piping and waste water plants by 2020.
"Demand for water continues to escalate at unsustainable rates. At the risk of being alarmist, we see parallels with Malthusian economics. Globally, water consumption is doubling every 20 years. By 2025, it is estimated that about one third of the global population will not have access to adequate drinking water," it said.
China faces an acute challenge. It makes up 21pc of humanity but controls just 7pc of the water supply. The water basin in parts of northern China is falling by one meter a year due to overpumping. In Heibei province the aquifer fell three meters last year. An increasing number of rivers are running dry.
Disputes over cross-border water basins have already prompted Egypt to threaten military action against any country that draws water off the Nile without agreement.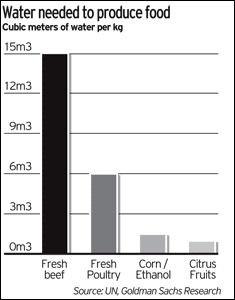 ©UN, Goldman Sachs Research
The shift to an animal protein diet across Asia has added to the strain. It takes 15 cubic metres of water on average to produce 1kg of beef, compared to six for poultry, and 1.5 for corn.
Goldman Sachs advises investors to focus on the high-tech end of the world's $425bn water industry. But beware the consumer "backlash" against bottled water, now viewed as an eco-hostile waste of fuel.
It is eyeing companies that produce or service filtration equipment (which can now extract anything from caffeine to animal growth hormones by using nanotechnologies), ultraviolet disinfection, desalination technology using membranes, automated water meters and specialist niches in water reuse.
It is difficult to find a "pure play" on water equities. GE is a market leader in the field, but the sector makes up just 2pc of its colossal turnover.
The revenue share of the world's top water companies that comes from the sector is Veolia (34pc), Suez (16pc), Ferrovial (20pc), Sabesp (100pc), Severn Trent (100pc), RWE (23pc), ITT Corp (32pc) and Pentair (75pc).
Goldman Sachs said the best option is to spread investments across a basket of small "potential takeout candidates" such as Badger Meter, Calgon Carbon, Clarcor, Pentair, Pall, Instituform, Hyflux, Tetra Tech, Acqua America and Watts Water.
Stanford professor Donald Kennedy said global climate change was now setting off a self-feeding spiral. "We've got droughts combined with a psychotic excess of rainfall," he said.
"There are 800m people in the world who are 'food insecure'. They can't grow enough food, or can't afford to buy it. This is a seismic shift in the global economy."