Sharm El-Sheikh, Egypt - Israel and Egypt face the same threat from radical Islam, Israel's right-wing Likud party leader Benjamin Netanyahu said on Sunday after talks with Egyptian President Hosni Mubarak.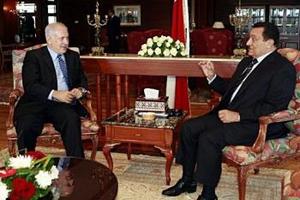 ©AFP
Hosni Mubarak (R) talks to Benjamin Netanyahu
"It was a very warm meeting," the hawkish former prime minister told AFP. "We spoke about the common threats that we have to face, most especially from Islamic radicals."
Netanyahu appeared to be referring to Egypt's Muslim Brotherhood, which controls a fifth of seats in parliament. It is the country's largest opposition movement but its members are routinely jailed by the authorities.
Netanyahu, whose Likud party Israeli opinion polls say would probably win a snap general election, said that he also discussed Egypt's efforts to prevent weapons smuggling into the Hamas-controlled Gaza Strip.
Hamas is "an enemy of moderate Palestinians" that "is supported by a very aggressive regime in Iran and therefore part of the pursuit of peace means neutralising radical Islam," he said.

Comment: Oh, how convenient it is to create one's own reality, and setting aside all the facts, speak words that only fit one's aims!


Netanyahu has largely kept out of the limelight in recent months
as Israel has pursued currently stagnant talks with the Palestinians aimed at securing a peace deal by January 2009.
Speaking on the sidelines of the World Economic Forum for the Middle East, Netanyahu said that economic growth -- for both Israel and the Palestinians -- would lead to Middle East peace.
"We've created a model which says that if we have peace then we have prosperity," said the former finance minister. "But I think it's actually more likely to be the other way round."
"Rapid economic growth, not only in Egypt and other countries, but also for the Palestinians, will produce a climate of reconciliation, a climate of lowering the acuteness of the conflict and make it more resolvable," he said.
"That's happened in a way in Northern Ireland, it may be happening in Cyprus.
Rapid growth enfranchises people -- it gives them a reason to seek political solutions instead of endemic conflict.

Comment: Rapid economic growth actually, does not set people free but instead enslaves them into the bonds of materialism, which results in political apathy. Could that be Mr Netanyahu's goal in any way?


"Growth helps people, especially growth that helps large sections of the population with it. They have something and they don't want to lose it. They want to protect it, they want to have it for their children," Netanyahu said.