Waco, Texas - Fire officials determined that a lightning bolt around 10 a.m. today caused a ranch-style house at 3920 Austin Ave. to catch fire.
Its owner, 63-year-old Dub Allen, is a tugboat operator, who was out-of-town at the time of the fire.
Waco fire investigator Charles Lindorfer said lightning struck a metal chimney near the back of the house. The fire caused extensive water and smoke damage, he said, however, the contents in the home were not a total loss.
"I heard a huge clap of thunder," said Mavis Nix, who lives across the street. "Then, my neighbors came by to tell me that smoke was shooting out of (Allen's) house."
Below is a shot of a firefighter working on the roof of the house taken by photo editor Rod Aydelotte: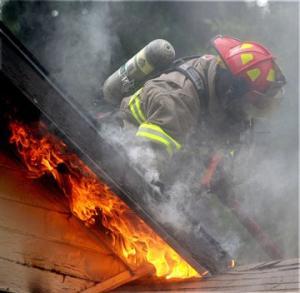 ©Rod Aydelotte