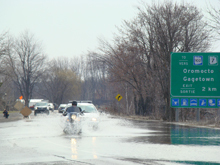 ©Ryan Edwards
Flood waters cascade onto the highway near Maugerville, New Brunswick
The St. John River is expected to stabilize in Fredericton, New Brunswick on Thursday but will continue to rise outside the city, say Emergency Measures Organization officials.
The latest river watch reports the flooded river will remain at its current level of about 7.1 metres into Saturday, while it will rise in nearby Maugerville and Jemseg.
Despite the stabilized levels, the river will still be above flood levels and the danger has not yet passed, said Andy Morton, deputy director of the province's Emergency Measures Organization.
"I would say it's too early to be definitive that we've reached a crest and we're home free," Morton said. "Until we start to see a real strong downturn in the water levels we're going to have to stay at a heightened state of readiness."
The river is more than 50 centimetres above its flood level of 6.5 metres.
Rain was coming down in the capital city on Thursday but cooler temperatures are expected to keep the river water within manageable levels, said Andy Morton, deputy director of the province's Emergency Measures Organization.
Water is pouring onto the old Trans-Canada Highway outside Fredericton. Police have set up checkpoints requiring travellers to show they live or work in the area before they can go down a 35-kilometre section of the road.
Many roadways have closed in the capital region and signs warning of danger and high water are along many roads. Police are keeping a 24-hour watch on roadways and RCMP officials have said they will close stretches of roads as needed.
Flooding has closed a stretch of Highway 105 in Keswick from Session Settlement Road to Tripp Settlement Road since Wednesday. Route 105 was also closed from Bluebird Corner in Maugerville to the Jemseg River Bridge, and Route 690 was closed from McGowan's Corner to Lakeville Corner.
The Gagetown ferry has been shut down because of the high waters.
"The swimming pool's in my basement," said Karl Bowland, whose house is surrounded with water and it is beginning to creep up his basement stairs.
"Compensation's nice but it's hard," he said. "How do they pay you what you lose? You can be paid for a stove or bed but we lost wedding pictures.... No matter how much money they pay you it doesn't compensate for that."
Lori Jones, owner of a turf company in Maugerville, said the low-lying area the business uses is completely underwater and some product will likely be lost to the flood. In 2005, $100,000 worth of product was destroyed by flood water, she said.
"We're totally dependent on Mother Nature," Jones said.
Physical damage to homes has been minimal so far, said Morton.
Sandbags are piled in driveways in an effort to keep the waters back. Tools, bikes and children's outdoor toys are piled atop sheds in an effort to keep them from floating away.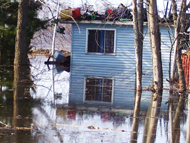 ©J.A. Faust
Belongings are piled on the top of homes near Maugerville as the St. John River floods.
"We live here by choice," said Barry Thompson, who has lived along the river for 18 years. "Nothing they can do about the river."
Thompson said he'll be watching over his home by boat, if necessary.
"You just move out and come back once in a while in your boat and check to make sure things are all right and [see] if anything needs to be put up a little higher," he said.
So far, the flood waters have hit low-lying areas that are affected annually, said Oromocto fire Chief Jody Price.
"A lot of the longtime residents are used to this. They are well-prepared," he said.
Officials are monitoring residents of some homes that are vulnerable to the flood waters and have offered to check daily on the properties of those who have to leave the area, Price said. But many of the residents and farmers living on the land surrounding Fredericton are independent-minded and are so far declining to leave, he said.
The Emergency Measures Organization has set up a temporary headquarters to co-ordinate flood relief efforts.
The University of New Brunswick has also opened its doors to people who need to leave their homes and are not able to stay with friends or family.
The organization is operating emergency registration centres at the university and the Days Inn hotel in Oromocto. About 30 families have registered so far, officials said. But only a few have actually reported that they have evacuated their homes.
The EMO is forecasting the following water levels for other areas:
* In Maugerville, the water level is expected to increase to 6.2 metres by Friday. Flood stage is six metres.
* In Jemseg, the water level is expected to reach 4.9 metres by Friday. Flood stage is 4.3 metres.
* In Grand Lake, the water level is expected to hit 4.9 metres by Friday. Flood stage is five metres.
* In Sheffield-Lakeville Corner, the water level is expected rise to about 4.9 metres by Friday. Flood stage is 5.1 metres.
* In Oak Point, the water level is expected to reach 4.1 metres by Friday. Flood stage is 4.7 metres.
* In Quispamsis, the water level is expected increase to 3.9 metres by Friday. Flood stage is 4.2 metres.