A natural gas explosion? That's disappointing to all of us who had been pulling for the meteor.
We still don't know with certainty what set off the explosion at a North Side home last week. At a news conference yesterday, Detective Michael Burns of the city's arson unit said an illegal drug lab has been ruled out, which leaves investigators to believe natural gas was the cause.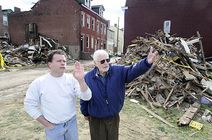 ©Bob Donaldson/Post-Gazette
Pitt professor emeritus and meteor expert William Cassidy, right, looks with Matt Grebner toward Mr. Grebner''s Spring Hill home. The site of two destroyed North Side homes is behind Mr. Grebner, who thinks a meteorite may have caused the damage. Dr. Cassidy thinks: unlikely.
The blast came from the kitchen of 845 Lovitt Way, Detective Burns said. Police are checking gas appliances pulled from its wreckage. An Equitable Gas spokesman said no leak was detected, but an "extraordinary amount of gas passed through the meter" days before the explosion, which brought down an adjacent house, too.
Matt Grebner, a Spring Hill resident, wasn't buying that.
"Stove creates sonic shock wave?" he asked sarcastically. "That'd be a first."
He says his house shook as he heard a boom Friday morning, more than a half-mile away from the site of what are now the ruins of two rowhouses. He went outside to see if something had hit his house, and when he found nothing, he realized it was a sonic boom and began thinking of the possibility of a meteorite.
Unlikely, sure, but not impossible. William Cassidy, 80, professor emeritus in geology and planetary science at University of Pittsburgh, was intrigued enough by Mr. Grebner's account to come down and take a look. I met Dr. Cassidy at his Oakland office and he followed me via Polish Hill to the battered North Side street.
"I don't think I'll see anything looking at that," he said when we got to Lovitt Way.
A couple of cops were on wreckage sentry duty and wouldn't let us get close. Still, if this damage had been done by a meteorite, it had broken all 20th-century U.S. records. Meteorites hit 13 houses or cars between 1911 and 1994, according to Dr. Cassidy. Ten of those meteorites weighed less than 5 pounds and did little more than penetrate a roof or rip off a rain gutter. The largest, more than 27 pounds, crushed the back of a car in Peekskill, N.Y., in 1992.
"None of them blew the place up," he said.
The possibility of an American dwelling being hit by a meteorite in the 1990s was about 1 in 48,560,500, according to his most recent calculations. Odds may have gone up since then. Still, if when pulling these houses apart, workers find a rock where it has no reason to be, he'd like to see that. He thinks he could tell if it were a meteorite.
"I don't think it's very likely," Dr. Cassidy said. "Too bad."
Generally, his finds aren't within a few miles of his office. Antarctica is your go-to continent for meteorites, and he has led a number of expeditions to recover specimens, capturing the work in his book, "Meteorites, Ice and Antarctica." Most of what he found there dropped from the sky millions of years ago, not last week.
The homes at 845 and 847 Lovitt Way were unoccupied, but the former belongs to Ray Glatz, 80. He moved about seven months ago to a McCandless nursing home while in poor health, and is now getting chemotherapy for lung cancer, but Mr. Glatz had plans to return. He took news of his home's destruction stoically, saying he'll find a place to live on the North Side among nieces and nephews.
Seven Decembers ago, Mr. Glatz was among neighborhood residents who Christmas caroled outside homes of suspected drug dealers and prostitutes. On streets where cocaine is dealt, "Frosty the Snowman" takes on a different meaning. Mr. Glatz was unafraid to get in dealers' faces.
He didn't fear them, but he feared fires started by squatters in abandoned buildings around him. "I'm old enough to die," he told me in 2002, "but not in a fire. I don't want to be taken that way."
So he's glad he was elsewhere and that his cat, who had stayed in the house alone for months while relatives checked in on it, had been taken in by his friend, Allegheny Common Pleas Judge Cathleen Bubash, less than two weeks before.
With all that Mr. Glatz has been through, the cosmic irony would be just too great for his house to be taken down by a rock from outer space. Mr. Glatz said last night he doesn't know what destroyed his home, but the city's news conference didn't satisfy him either. No explanation has made sense to him yet.