County firefighters rescued an 8-year-old boy from a storm drain outside a Crownsville church yesterday after he got stuck trying to retrieve a lost ball.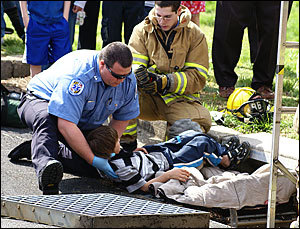 ©Eddie M. Harris/The Capital
A child was rescued by firefighters yesterday after he was partially stuck in a storm drain in front of South Shore Baptist Church on Herald Harbor Road at about 10:45 a.m. It took only a few minutes to free the 8-year-old.
A group of children where playing outside South Shore Baptist Church at 725 Herald Harbor Road during a Sunday school church breakfast at about 10:40 a.m. when a ball rolled into the 8-inch-high storm drain, said Deacon Bob Simpson.
Ronnie Morris was the smallest boy outside, and thought he could get into the storm drain to get the toy, he said.
The boy got on his back and tried to shimmy his body down below, said Lt. Frank Fennell, a county Fire Department spokesman. When he realized his feet couldn't touch the bottom, the boy changed his mind and tried to scoot back up to the street.
As he maneuvered his body up, Ronnie's abdomen suddenly got stuck between the curb and metal grate of the storm drain, Lt. Fennell said.
As Ronnie struggled, the children ran to get Marty Orndorff, chief of Herald Harbor Volunteer Fire Department, who is a member of the church and was attending the breakfast. More crews were called, and firefighters freed the boy within 10 minutes.
Firefighters had to lift a metal grate from the roadway to get into the storm drain, Lt. Fennell said. Once inside, they pushed the boy from below, while others pulled him from the street level.
Ronnie was taken by ambulance to Baltimore Washington Medical Center in Glen Burnie to be examined. He had complained of abdominal pain. He was back at South Shore Elementary School this morning and doing well, church staff said.
Battalion Chief Matthew Tobia, a county Fire Department spokesman, said children should never attempt to get toys, or other items out of storm drains.
"Obviously we never want children to go into those things," he said. "They're confined spaces, so there is a high potential for a catastrophic outcome."
Storm drains are usually just a few feet deep. However, children can get swept with water into a vault that can be 15 to 20 feet deep, he said.