Skip Honsperger was headed to a Toledo hospital to visit his mother late last month when he saw a sheet of ice drop into the Veterans' Glass City Skyway's northbound left lane while he drove in the center lane.
Moments later, another chunk dropped from the I-280 bridge's stay cables right onto his MazdaSpeed 6's windshield, smashing it.
"It sounded like a big shotgun going off in the car," Mr. Honsperger recalled of the 2:30 p.m. incident on March 28.
The windshield didn't shatter or collapse into his car, but it was so cracked up that Mr. Honsperger had to peer through "an area the size of a pie plate" to drive home to Fremont.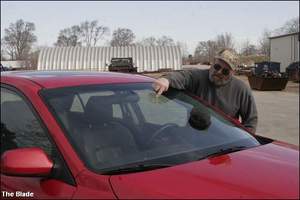 ©The Blade/Herral Long
Skip Honsperger had to drive to Fremont with a broken windshield after an ice chunk hit his car as he drove across the bridge.
Half an hour later, Dearborn, Mich., resident Jeb Kenney - also driving northbound - was headed home from his job at a Ford plant in Avon Lake, Ohio, when he saw several chunks of ice falling from the stay cables, including one that hit a car ahead of his.
"At first I thought it hit his roof until I drove up and saw the glass smashed. [The driver] was looking out through a little unbroken section by the A pillar," Mr. Kenney said, referring to the car's metal roof-support column to the windshield's left.
"It was pretty wild seeing these snow blocks falling to the ground, pretty scary," he said. "You could see to the left of the left lane the pile of snow and ice that had been falling. ... I know I wouldn't want to drive through that again. It was like dodgeball with your car."
But not until nearly 5 p.m. that afternoon did the Ohio Department of Transportation start closing lanes on the Skyway, pushing all traffic in both directions over to the outermost lane to keep more vehicles from being hit by falling ice. The lanes remained closed until the following day, after officials determined that no ice remained on the cables.
As with a previous ice incident in December, the ice on the bridge's stays March 28 was from an accumulation of freezing rain the night before.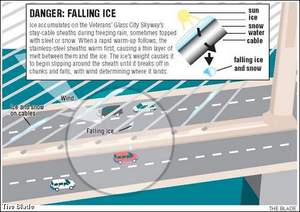 ©The Blade
When the sun came out on the more recent afternoon, the stays' stainless-steel sheaths warmed, causing a thin layer of moisture to melt between them and the remaining ice, said Layth Istefan, ODOT's highway management administrator at the Bowling Green district office. That caused the ice to start slipping around the stays' circumference until the force of gravity broke it free in chunks, he said.
On Dec. 12, ice that had formed during several days of intermittent freezing rain broke free in similar fashion when warmer temperatures and rain melted its bond with the stays.
"You have to think how often that happens. It's just a rare situation," ODOT district spokesman Theresa Pollick said at the time.
ODOT was advised of the latest ice problem March 28 at about 3:30 p.m., Mr. Istefan said, but didn't get lanes closed until 5 because virtually all of its local maintenance workers had been sent home early that afternoon after having worked 12-hour shifts to clear snow and ice from the previous night's storm.
"We did not have the proper men and equipment to set up a [lane-closing] zone" right away, he said, adding that merely dispatching a few trucks with flashing-arrow signs could have caused accidents because of motorist confusion.
Transportation department officials hope pending installations of deck-level weather sensors and cameras on the bridge will improve their awareness of, and response time to, any future ice incidents on the bridge. They said they're not aware, however, of any practical preventive measures nor are they convinced that such incidents will happen often in the future.
After the December incident, ODOT consulted with officials from Michigan, Maine, and Massachusetts about how they have dealt with ice accumulating on tall bridge structures and came away with similar responses, said Mike Gramza, ODOT's district construction engineer.
"Nobody does any kind of preheating or any other type of prevention" because the costs are prohibitive, Mr. Gramza said. "Hopefully, we're out of that situation for this year," he continued, and by next winter ODOT will have better warnings available if dangerous ice conditions redevelop.
In February, the Mackinac Bridge in northern Michigan closed for 2 1/2 hours because of ice falling from its towers and suspension cables. It was the third time in six years that the Mackinac had to close temporarily for that reason.
Three years ago, a similar falling-ice problem developed on the Zakim Bunker Hill Bridge, a cable-stayed span carrying I-93 over the Charles River in Boston that was completed in 2003. But Mac Daniel, a spokesman for the Massachusetts Turnpike Authority, which owns the bridge, said the problem was considered to have been a weather fluke brought on by a rare combination of freezing rain and high winds.
"That was the only incident of its ilk that we've had since the span opened," Mr. Daniel said. "If it recurred, there was talk of winding the stays with heating elements, but that would have been a real chore."
Christian Menn, the Boston bridge's Swiss designer, told the
Boston Globe
shortly after the I-93 incident that "if you have certain weather conditions, it can happen - and it happens everywhere, even the big bridges in New York."
Mr. Gramza said he is unaware of ODOT having paid any damage claims from the Dec. 12 ice incident on I-280. Claims from such matters can be filed with the Ohio Court of Claims, which makes findings on the cases.
Mr. Gramza can be assured of at least one such claim against ODOT coming in from the latest falling ice incident last month.
"It was $250 for my deductible, plus a $25 fee to make the claim that I'll be refunded if they approve it," Mr. Honsperger said of the price to replace his car's windshield.