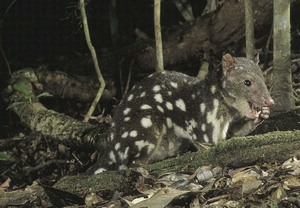 ©Unknown
Ten unique creatures face extinction as country finally tries to turn its appalling conservation record around.
Australians love their wildlife - after all, who could fail to warm to a koala, or a wombat, or a kangaroo? But few Australians know that they have the worst record on the planet for conserving their beautiful and unusual animals.
Of all the mammal species that have become extinct in the past 200 years, nearly half are Australian. Since the British arrived, 27 mammals - about 10 per cent of the total - have disappeared. These are statistics that "embarrass many conservationists, myself included", says Tammie Matson, head of the species programme at WWF Australia.
The precarious state of much of Australia's surviving wildlife is of even greater concern, and in Darwin last week Dr Matson launched a project aimed at raising awareness of the problems facing endangered species such as the karak, pictured.
The Flagship Species Programme will focus on 10 endangered creatures that embody the threats facing those inhabiting similar environments. They include the snubfish dolphin, which was only discovered in 2005; the brush-tailed rock wallaby, an athletic creature that can scale almost vertical outcrops; the northern quoll, a small, spotted marsupial; and the brilliantly hued Gouldian finch, also known as the painted or rainbow finch.
There are several reasons why such creatures are at risk, and why Australia has already suffered such a high rate of extinctions. Land clearing, with the resulting habitat destruction, is one. A change in fire regimes - from the patchy, selective burnings carried out by Aborigines to today's devastating bushfires - is another.
But by far the most harm has been wrought by the introduction of exotic predators, namely feral cats and foxes, according to Chris Johnson, a professor specialising in marsupial biology at Queensland's James Cook University. Their impact has been compounded by the culling of dingoes, which would otherwise have kept cat and fox numbers down.
Dingoes, which are thought to have first arrived in Australia at around 3000BC, had replaced larger predators, particularly the extinct thylacine, or Tasman tiger, on the mainland, said Professor Johnson. But in sheep-farming areas, dingoes had been virtually eliminated. "We should be rethinking the dingo's ecological role," he added.
Species already lost include the lesser bilby, a delicate marsupial that burrowed in desert sand dunes; it was only discovered in the late 1800s, and 50 years later was extinct. The pig-footed bandicoot was tiny, with long legs, and paws that resembled hooves, or pigs' trotters. Early accounts say it looked like a miniature horse. "There's nothing like it living today," said Professor Johnson.
Dr Matson, a zoologist, points out that most Australian species are unique to the continent, so when one vanishes, the loss is felt globally. She has just returned from a decade working in Africa and says Australia could learn much from the poorer continent.
"We're very good at a lot of things, including sport," she said. "But we're also very good at killing our mammals. We're not shooting them out [of existance] anymore, but we're having the same effect by removing their habitat."