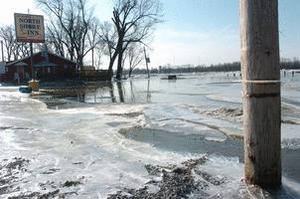 ©John Greenwood
Mother Nature's whims sent the Rock River to record high levels in the Quad-Cities area Thursday, forcing people from their homes and Rock Island County to declare a state of emergency.
At least one ice jam formed late Wednesday or early Thursday, causing the already swollen waterway to rise quickly. Area fire departments scrambled to launch boats to evacuate stranded residents.
Area officials said Thursday that they cannot destroy the jams, and the blockages will have to break up on their own. That means no one can really predict when the flooding will be over and people can return to their homes.
"I'd say it's wait and see right now," county board chairman James Bohnsack said Thursday afternoon about what the next 24 hours would bring.
The river hit 16.38 feet at Moline at 8:30 a.m. Thursday, breaking a record set in 1973, according to the National Weather Service. That year, the river reached 16.15 feet in the Moline area, according to the weather service.
Water levels fell throughout the day Thursday, only to spike again late in the afternoon. As of 8:30 p.m. -- the latest readings available -- the Rock was hovering at about 14.91 feet in Moline, the weather service said. Flood stage there is 12 feet.
Upstream at Joslin, the Rock hit 17.29 feet Thursday afternoon, more than five feet above flood stage. It continued to fluctuate, falling to about 17.25 feet by 8:30 p.m., and is expected to crest about 17.8 feet some time Saturday, according to the weather service.
In Whiteside County's Como area, the river had fallen to 9.03 feet Thursday night, just shy of the 10 feet flood stage.
No serious injuries had been reported as of Thursday evening, officials said. One firefighter sprained a knee, and there were reports of some people being treated for hypothermia. One man was treated for cuts on his face after falling through the ice.
By late Thursday afternoon, people had been evacuated from about 60 homes along North Shore Drive and South Shore Drive in Moline and Coal Valley. Rescue crews were heading back into the area to try to retrieve pets stranded by the high waters.
A large ice jam at the Veteran's Memorial Bridge broke in the early afternoon, dropping water levels there but sending them higher around Vandruff's Island, further downstream.
Though an official evacuation order had not been issued there Thursday evening, Milan Police Chief Mark Beckwith said his officers had been "strongly encouraging" people to leave since the afternoon. "It's been very busy," he said.
Chief Beckwith said dozens of people were evacuated from the island, and the fire department had to do several water rescues.
"We had an individual who was riding his bike on an earthen area on the ice," the chief said. People like the biker, he said, are frustrating because their actions put others in danger. "In situations like this, you also don't want the rescuer to have to be rescued."
Trucks from MidAmerican Energy were also on the island Thursday evening. "We actually had power poles taken down by the ice," the chief said.
A Milan police dispatcher said late Thursday that evacuation efforts had been stopped because everyone had left the area.
Police and Rock Island County Sheriff's Department deputies will be patrolling the problem areas in coming days, officials said. Firefighters would be on standby, ready to get people out of flooded areas as needed.
Conditions could change rapidly, and people living and working near the Rock should be prepared to move if necessary, taking precautions like having their medications handy.
Authorities also were asking already-evacuated residents and onlookers not to go to the flooded areas because of the dangers.