Gilbert Adikpeto remembers the night he lost much of his shorefront home, literally washed away by the sea.
"We were asleep with the children when there was a deafening noise from the living room. I got up in a panic and the whole room had disappeared under the waves," said the 62-year-old retired railway worker, still in shock two months later.
Adikpeto's story could become all too common, experts warn.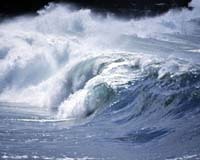 ©Unknown
Huge breakers constantly battering Benin's coast -- and the rest of the shoreline on the Gulf of Guinea -- are starting to take their toll. Ivory Coast, Ghana, Togo and Nigeria are also fighting to stop the sea from gulping up chunks of land.
In tiny Benin, the erosion on its narrow stretch of coastline was first recorded a century ago.
The phenomenon has been exacerbated by the rise in seawater levels, attributed to global warming, and by massive construction projects such as the Nangbeto dam in Benin and the Akossombo dam in Ghana, as well as the development of deep-water ports at Cotonou and Lome, according to experts.
"The coastline to the east of Cotonou has moved back 400 metres (yards) in 40 years, that is an average of 10 metres a year," said Paul Houssou who heads up an anti-erosion project for the UN Environment Programme (UNEP).
Worldwide, seawater levels are estimated to have risen between 10 and 20 centimetres (four to eight inches) in the past 100 years and that trend is speeding up.
A study by Columbia University showed that sea water levels on the West African coast could rise by more than 50 centimetres between now and the end of the century.
For its part, the Intergovernmental Panel on Climate Change (IPCC) -- which shared the 2007 Nobel Peace Prize with former US vice president Al Gore -- noted that rising sea levels along the Gulf of Guinea could cost its rim countries almost 14 percent of their gross domestic product.
By contrast, preventive measures adopted by the same countries would only cost between five and 10 percent of their GDP, the IPCC said.
A number of other studies have underscored just how quickly most of Cotonou, Benin's commercial capital, could disappear under the waves.
One by the French firm SOGREAH-Laboratoire DEFT said: "If nothing is done before 2025, the coastline will lie 950 metres farther inland than it did in 1963."
Hardest hit would be the section of Cotonou known as Les Ambassadeurs, which the French study said would be swallowed up completely, as would the road that links the administrative capital Porto Novo to Lagos in Nigeria. Other districts of Cotonou could follow pretty quickly, it warned.
But it was only in September that the government banned local construction companies from pumping sand from the seacoast and told them to use sand from rivers instead.
Benin's next big plan is to build dikes to protect its 125-kilometre coastline (78 miles). The 50 million-euro (73 million-dollar) project financed partially by the World Bank is set to start in first half 2008.
"Our first goal, stopping the extraction of sea sand, has been achieved. We are now going to build dikes in two directions starting from Cotonou channel: towards the Togolese border and towards the Nigerian border," Urban Planning Minister Francois Noudegbessi told AFP.
UNEP experts, however, said that only a full regional dike would be beneficial, stretching at least along the five countries from Ivory Coast east to Nigeria.
Dikes constructed piecemeal country-by-country would run the risk of exacerbating the problem of erosion, UNEP environmentalist Jacques Houngbonou told AFP.
"Contrary to what our leaders think, any dike construction has to be done on a regional level so that no chunk of the coastline gets left out," he warned. "Otherwise, later we're going to see parts of the coastline reinforced and more marked erosion in the other parts."
The dike project is seen as too little too late for Cotonou families like the Adikpetos who have already been forced to move.
"When I finished building my house in 1987, the sea was 250 metres away and there were four rows of houses in front of mine. Now they're all under water," Adikpeto said.
And it is not only private homes at risk. Cotonou's Palm Beach hotel, once the "in" place to gather for drinks, is now three-quarters swallowed by the sea.
Despite the danger, some seafront residents do not want to move.
In the Cotonou district of Donaten, fishing boats come back each sunset weighed down with their catch but with increasing trouble getting past the tidal bore.
"The sea is chasing us away, but it's also our source of food so we try to stay close to it, despite everything," said a fisherman named Barnabe as he pulled his boat up on the sand.