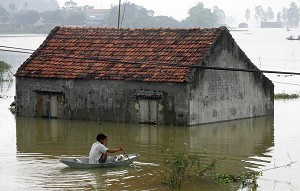 ©Hoang Dinh Nam/AFP/Getty
Tens of thousands of homes were submerged in central Vietnam, the fifth major floods since August in which hundreds of people have died, roads and railways inundated, crops damaged and water-borne diseases spread. Relief workers delivered emergency supplies of household kits, clean water containers and mosquito nets in the coastal cities of Hue and Danang and the provinces of Quang Tri, Quang Ngai and Binh Dinh.
"The water is at very dangerous levels and we are not very clear on what all the needs are," said spokesman Tao Van Dang of the International Federation of Red Cross and Red Crescent Societies in Hanoi.
"Some people need help for disease prevention."
Parts of Vietnam have suffered an outbreak of acute diarrhoea, including cholera, in the past three weeks. Dengue and bird flu are also present in the Southeast Asian country.
Rains have disrupted the coffee harvest in the Central Highlands in the past two weeks.
A government report said 61,500 houses were submerged in Quang Ngai province and in Danang. Meteorologists estimated water levels were higher than in October in several northern and central provinces, which were some of the highest in two decades.
This week, the main north-south railway and roads were flooded, confining about 2,500 foreigners among 3,000 tourists to hotels in Hue and other popular destinations. Nearly 150 old houses have been submerged in Hoi An, a World Heritage site.
At least 24 people had been killed and eight missing in floods over the past few days, disaster reports said. About 25,000 people had been evacuated to higher ground.
Floods peaked on Monday following rains of up to 1,450 mm (57 inches). Water levels were receding slowly while more rains were expected by Wednesday, a government report said on Tuesday.
Deaths this week have raised the regional toll to 332 people, 114 of them since Oct. 26. The peak season for storms and floods usually runs from August to the end of October.
The United States said it was sending $900,000 in aid to Vietnam, bringing to $1 million its assistance to help flood victims rebuild houses, resume agricultural production, clean up the environment and help children go back to school.
"The floods struck communities which were, in many cases, just starting to recover from the damage caused by the August floods," U.S. ambassador to Hanoi, Michael Michalak, said in a statement on Tuesday.
In August, a similar disaster killed more than 80 people and left nearly 1 million people hungry.